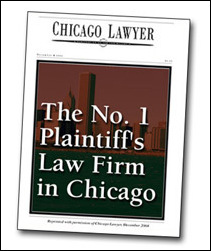 Power, Rogers & Smith is the best training ground for aspiring trial lawyers
Chicago, IL (PRWEB) March 14, 2007
Power, Rogers & Smith is proud to announce that Carolyn Daley Scott joined the powerhouse Chicago personal injury law firm in November 2006 after graduating from DePaul University College of Law.
Ms. Daley Scott will be working with Power, Rogers & Smith's renowned personal injury lawyers in assisting the firm's clients with various personal injury matters.
Born and raised in Chicago, Ms. Daley Scott got her bachelor's degree at Georgetown University in 2002, and then returned to Chicago to attend law school at DePaul. Soon after starting law school, Ms. Daley Scott realized that she wanted to practice personal injury law because of her deep belief in helping people and in the justice system. While at law school, Ms. Daley Scott was a law clerk with the Cook County Public Defender's Office where she represented defendants in murder cases as part of the Public Defender's Murder Task Force. She also clerked for Power, Rogers & Smith throughout law school, working on various injury matters with the firm's talented attorneys.
In addition to her desire to assist people in need, Ms. Daley Scott wants to become an accomplished trial lawyer. With some of the top trial lawyers in the nation, "Power, Rogers & Smith is the best training ground for aspiring trial lawyers", says Ms. Daley Scott.
At DePaul Law School, Ms. Daley Scott's interest in trial work led her to start a student chapter of the American Association for Justice, formerly known as the Association of Trial Lawyers of America. A founding member and vice president of this student organization, Ms. Daley Scott was intimately involved with the group's activities. Upon graduation, Ms. Daley Scott became a member of the Illinois Trial Lawyers Association, as well as the Illinois Bar Association and the Chicago Bar Association.
About Power, Rogers & Smith
For nearly three decades, Power, Rogers & Smith and its founding partners have been dedicated solely to the representation of Illinois's personal injury victims in catastrophic personal injury and wrongful death claims arising out of automobile accidents, train accidents, construction accidents, brain injuries, birth injuries, cerebral palsy, and many other forms of medical malpractice.
The skilled and experienced lawyers at Power, Rogers & Smith have obtained over 200 personal injury and wrongful death recoveries in excess of $1 million for serious injury and wrongful death cases, totaling nearly $1 billion over time.
In addition to handling demanding personal injury caseloads, Joseph A. Power, Jr., Larry R. Rogers, and Todd A. Smith are active in the community and have been recognized by numerous organizations for their contributions, including Joe Power's 2003 Citizen of the Year Award by the City Club of Chicago.
About Power, Rogers & Smith - Top Chicago Personal Injury Lawyers Named in Chicago Lawyer magazine as the No. 1 Plaintiff's Law Firm in Chicago, in several surveys the personal injury law firm of Power Rogers & Smith has been recognized for many years as the leader in Illinois injury law.
Law Firm Web Design & Lawyer Marketing provided by the Legal Marketing company -- CEPAC.com
# # #