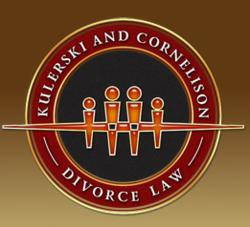 The Law Firm of Kulerski and Cornelison has offices in downtown Chicago (Cook County) and in suburban Oak Brook (DuPage County), IL.
Chicago, Illinois (PRWEB) July 27, 2011
The downtown Chicago and Oak Brook, Ill. divorce legal team of Kulerski and Cornelison has embraced collaborative law as part of their services in assisting couples with Cook and DuPage County divorces. Collaborative law focuses entirely on the settlement and prohibits spouses and their attorneys from using the court system for anything other than the entry of routine papers. It was a natural fit for the partners, both trained in divorce mediation.
Richard Kulerski and Kari L. Cornelison stand firm in helping couples overcome complicated and frustrating divorces. Supporting friendly divorce litigation, the partners recognized that divorce often takes too long and costs too much. "We focus on keeping our clients' divorces simple, affordable and out of court," said Kulerski. "Our job is to make sure the legal system doesn't add to their problems or make their divorce more complicated than it has to be."
Collaborative law softens the divorce experience, according to Kulerski. It works as a safety net for families, protecting children from the dispute. It can also save divorcing couples as much as 60-80 percent in attorney fees.
Using diplomacy and creativity, the Law Firm of Kulerski and Cornelison helps divorcing parties settle their disputes without litigation so they have control over what is happening. According to Kulerski, both parties hire their own lawyers, who serve as "settlement only" attorneys that sit down with the parties in group conferences and do everything they can to attain an acceptable resolution.
Collaborative lawyers agree to be fired if the parties can't reach a settlement. The parties can then proceed into the legal system, but it does not double legal fees. Much of the numbers-gathering work has already been completed and is transferrable to the new lawyers.
"This professional dispute resolution model is consistently efficient and economical," said Kulerski after explaining the benefits of DuPage County Collaborative Divorce. "More than 80 percent of all collaborative cases are settled before a case is even filed. It pays dividends when the attorneys spend more of their efforts trying to achieve a settlement, rather than preparing for a trial that no one wants."
For more information call 630-928-0600, or visit civilizeddivorce.com. Questions can also be directed to either Kari L. Cornelison (kc(at)illinoislegal(dot)com) or to J. Richard Kulerski (rk(at)illinoislegal(dot)com).
# # #