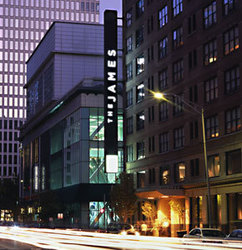 Chicago, IL (PRWEB) September 19, 2008
The James Chicago is proud to announce in recognition of the 2008 Chicago Marathon the hotel will be offering Chicago Marathon "congrats" amenities to participating athletes staying at The James. This leading downtown Chicago boutique hotel will be the hotel of choice for many runners seeking a luxury hotel experience with convenience to the marathon's start and finish line in Grant Park.
About the 2008 Bank of America Chicago Marathon:
On Sunday October 12, 2008 tens of thousands of runners will descend upon Chicago for the Bank of America Chicago Marathon. The 26.2 mile course is known for speed and for being one of the most scenic marathon courses. The James is proud to announce several of these athletes have chosen to stay at The James.
The James, Chicago Marathon Luxurious Perks:
Looking for a Chicago Marathon hotel package? Keeping in line with The James' reputation for intuitive, guest-focused service that brings the highest level of customized luxury to guests, guests running the Chicago Marathon will be treated like VIPs with The James' complimentary "Congrats" amenity package, which includes:

Access to a runners-only stretch room
Ice baths upon request
Aveda Foot Relief cream to invigorate sore, tired feet and legs
Bottles of Smartwater, Advil and bandages
If you are running the 2008 Chicago Marathon and staying at The James, please notify the staff to receive access to additional no cost perks.
Chicago Marathon Pre-Race Breakfast at The James:
For those looking for a pre-race breakfast, consider contacting The James Chicago. The James is offering a pre-race high-card breakfast buffet for runners looking to load up before the race. The buffet is $24, open to the public, and features a variety of high energy choices including:

Assortment of bagels
Assortment of white, wheat, rye breads, english muffins with toaster, butter, jams, peanut butter
Irish oatmeal with dried fruit, nuts, brown sugar toppings
Granola
Whole bananas, apples
Mixed fruit salad
Orange juice, grapefruit juice, cranberry juice, apple juice
Strawberry Banana smoothies
The Lobby Bar and Post Race Destination JBar:
The Lobby bar at The James is known for its signature cocktails and will be featuring a "Post-race Vitamin Water cocktail" for $12, which is made with white rum, "Revive" Vitamin Water and fresh fruit. For those looking to continue the celebration and take in Chicago nightlife, then look to visiting JBar. JBar, a Rush St. popular nightlife destination is located inside The James Chicago and is known for its signature cocktails and hip modern environment.
Please visit jameshotels.com to learn about 2008 Chicago Marathon perks or to find more information about downtown Chicago, IL luxury boutique hotels.
About the James Chicago:
The James Chicago, a member of The Leading Hotels of the World, debuted in April 2006 as a stylish alternative for the discerning business and leisure traveler. In the realm of hospitality, The James defines luxury liberated from tradition; this core philosophy is evident in the property's residential environment and personal, intuitive service. Recognized on Travel + Leisure's "2008 World's Best Awards", the property celebrates a lifestyle that is at once beautiful and comfortable, sophisticated and accessible, luxurious and natural. The James Chicago is a downtown Chicago, IL hotel that is centrally located on the corner of Rush and Ontario, steps away from Chicago's famous Michigan Avenue, Millennium Park and various museums. The James features David Burke's Primehouse, JBar lounge, The Spa by Asha, The Gym with Jim Karas Personal Training, unique event spaces, comfortable guest rooms and business networking lounge with webcams and seasonally rotating artwork. For details visit http://www.jameshotels.com.
###