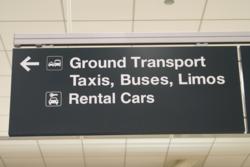 Chicago, Illinois (PRWEB) November 23, 2011
Echo Limousine just announced a new style of limo services to the Chicago suburbs for passengers arriving at Chicago's Midway airport. Their Meet and Greet service is a hit at O'Hare International, and now they are bringing the stress-relieving service to passengers arriving at Illinois' second busiest airport, Midway.
When passengers land, they are greeted beyond the security zone at the bottom of the escalators by a chauffeur holding a sign plaque with their name on it. No more hunting around for their connection, the travel-weary passengers can relax when they land, knowing that everything will go smoothly.
Instead of leaving cars parked in expensive parking areas, flyers can use Echo Limousine's Meet and Greet, usually saving them money on parking and gas as well as the aggravation of driving too and from the busy airport. Having limo service is a lot faster too. The car is ready for you instead of having to walk all the way to the parking area, or wait for shuttles, lugging luggage all the way.
When passengers are met by their driver in the terminal, they are guided to where the luggage carousels are, and then led to the doors to where the cars will be. Echo limousine offers several styles of cars at economical prices. The Meet and Greet limo service to the Chicago suburbs itself is very inexpensive, and well-worth the few extra dollars to ensure a hassle-free experience.
Travelers can also choose standard curbside pickup with Echo Limousine. The traditional curbside pickup has long been a common way for those travelers wanting a comfortable, clean and soothing way to get from the airports to the Chicago suburbs.
When choosing curbside pickup, passengers gather their luggage and head to the exit where they call the designated phone number from a cell phone, or the available phone banks at the airport. Their limo will arrive within minutes from the private limo lot that leads directly to the terminal where their passenger awaits.
With both the curbside pickup and meet and greet service, travelers are met by professional and courteous drivers and provided clean, smoke-free limousines for their comfort. There are also larger limo buses that service Chicago suburbs for groups of up to 30 people. Drivers keep constant track of incoming plane schedules. They are able to make sure they are ready and waiting for you when your plane lands, even if there are delays so you are always met on time.
About Echo Limousines:
Echo Limousine is a well-established Chicago area transportation company that offers a wide variety of Midway limo services as well as weddings and special events to out of state charters.
For more information, contact: Mircea Stanescu, General Manager of Echo Limousine at 773-774-1074 or visit http://www.echolimousine.com/ | http://www.echolimousine.com/midway-limo.html
###