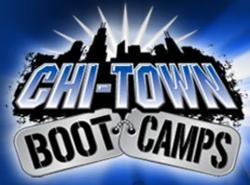 (PRWEB) November 20, 2011
Chi-Town Boot Camps offer access to a Chicago fitness trainer, without the traditional costs associated with such personalized care. The program begins with a one-on-one consultation with a Chicago fitness trainer and certified nutritionist. A customized monthly meal plan is drawn up, with a grocery list printed out, to help participants lose or manage weight. Individuals discuss any medical conditions or concerns they may have, as well as their goals, which helps the chicago personal trainer create a program that is both safe and effective. Currently, Chi-Town Boot Camps is offering this consultation, plus a full week of free boot camp sessions, for just $1.
Boot camp client Amy Bulpitt says she chose the program because she needed something drastic to stir her from apathy. "Throughout my life, I had longed to have the body that my friends had. I wanted to be thin, but I didn't do anything about it," she said. "Instead, I was depressed because I was overweight, which lead me to food as my comfort and only perpetuated my problem." With the help of a Chicago fitness trainer, she learned how to develop "fitness tolerance" and increase her energy levels. She went from a size 24 to a size 10 and never looked back.
Jennifer Widger, another camp participant, had been athletic and in good shape her whole life – until she had three kids. She explains, "I didn't know what to do to get [the weight] off and consequently tried every 'quick fix' there was…. Nothing worked and I pretty much gave up." She dropped 45 pounds and six sizes so far, and she's still going! She found the passion and commitment of the Chicago fitness trainers to be "contagious" and she appreciated how they truly care about every person who walks in their door.
"I have just never been a gym kind of girl," says Tobi Davidson. She adds that she always felt intimidated by buff people who made her feel inadequate and she never really knew how to use the equipment, so she never felt a sense of accomplishment. Yet, after having twins, she felt disgusted by her looks and knew she needed to get her energy levels up. "They taught me how to eat properly…. I was losing weight, losing inches, gaining energy and feeling awesome!" She was able to lose 42 pounds in 12 weeks with her Chicago fitness trainer and she felt "challenged, motivated and educated" to boot.
The workouts people receive with a Chicago weight loss will be rigorous and intense, but may be modified for any individual. No two sessions will be exactly alike, but the moves are easy to follow and may include everything from squats, lunges and crunches to push-ups, jumps and obstacle courses. Interval training gets the heart rate up and the metabolism revved for several minutes, which is then followed by a brief recovery period. This type of exercising is said to really melt fat off faster than any other method.
About The Company: Chi Town Boot Camps is a Chicago boot camp that is committed to helping people reach their ideal health and fitness goals. The company prides itself on having professional and experienced personal trainers who are committed and genuinely concerned with clients and the achievements of their objectives. Each individual is different, so the exercise programs are customized based on individual fitness goals, health history and current health condition. Chi Town's fitness boot camp programs are unique and exclusive and are consistently reviewed to maintain the highest possible standards. All programs come with a 100% money-back guarantee. Please visit http://www.chitownbootcampblogs.com for more information.
###