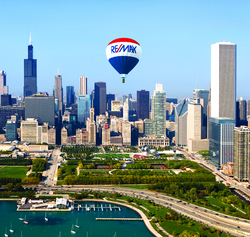 Home sales across our area certainly improved through the second quarter, and we think that trend can continue although there are those who feel otherwise
Chicago, IL (Vocus) July 16, 2010
Home sales in the metropolitan Chicago real estate market continued their steady rebound in June as the first half of 2010 drew to a close. Homes are selling in greater numbers and more quickly in most parts of the metro area than they were a year ago. Home price trends show less consistent improvement but did exhibit some encouraging signs, according to an analysis of June housing transactions by RE/MAX.
Home sales in June were 26 percent higher in the seven-county metro area than they had been a year earlier, with 9,022 units changing hands, according to data available through Midwest Real Estate Data, LLC (MRED), the multiple listing service for Chicago and its Illinois suburbs.
Home sales during the first six months of 2010 outpaced those for the same period last year by 37 percent in the metro area, with 38,053 homes changing hands this year compared to 27,757 in 2009. The increase in sales was comparable in the city and suburbs, with city sales climbing 36 percent and suburban sales rising 38 percent.
During the April-June quarter, total sales in the metro area rose 35 percent to 23,639 from 17,479 a year earlier. Again, the suburbs showed a slightly larger increase than the city, gaining 36 percent to 10,039 units, while city sales rose 31 percent to 6,806 units.
The average price of a home sold in the seven-county area in June reached $274,217, up 2.6 percent from the $267,338 average recorded in June 2009 and 5.6 percent higher than the $259,573 average of May 2010. However, the median price of homes sold declined 2 percent from $213,500 last June to $209,000 in June of this year.
"Home sales across our area certainly improved through the second quarter, and we think that trend can continue although there are those who feel otherwise," said Jim Merrion, regional director of the RE/MAX Northern Illinois real estate network.
"The second quarter, and especially June, traditionally is a strong period for home sales, and this year the homebuyer tax credit provided extra momentum. I expect July to be strong in terms of sales numbers because it usually ranks among the top three months in sales each year. How the market will behave through the remainder of the third quarter isn't clear yet though we are optimistic."
Merrion noted that another encouraging aspect of the June results was that sales of distressed properties, as reported by MRED, continued a recent trend toward representing a smaller share of total home sales. In March of this year, distressed sales (which include short sales and foreclosures) accounted for 42 percent of sales in the Chicago metro area. That percentage has declined each month since and reached 31 percent in June. During the second quarter, distressed sales totaled 7,764 units. Though that total was 24 percent more than the 6,249 distressed sales reported for the second quarter of last year, it represented only 33 percent of all sales. A year earlier, distressed sales were 36 percent of total sales for the April-June period.
Detached Homes
As has been the case for the last several months, sales of detached homes delivered a robust increase in June when compared to the same month last year. Sales totaled 5,728 homes last month, up from 4,535 a year earlier, a gain of 26 percent.
Perhaps even better news was that both the median and average price for detached homes rose modestly in June relative to the same month last year. The median price reached $220,000, a gain of 1.4 percent, while the average price of $291,326 reflected an increase of 4.6 percent.
"Those price increases stem largely from increased sales of higher priced homes, rather than price appreciation," observed Merrion.
Higher average prices were combined with faster sales. The amount of time the detached homes sold in June spent on the market fell from an average of 173 days last year to 153 days this year.
Sales of detached homes rose 32 percent in the second quarter to 14,830 units. Suburban sales were up 34 percent, and city sales grew by 32 percent. For the first half of 2010 there was a 34 percent gain in detached sales, with suburban sales up 35 percent to 19,421 units and city sales rising 30 percent to 4,699 units.
Attached Homes
Sales activity in attached homes, which consist largely of condominium apartments and townhouses, totaled 13,933 units across the metro area during the first six months of this year, yielding a 43 percent increase when compared to the January-June period last year. June sales activity produced a more restrained gain of 27 percent, with 3,294 units changing hands. Attached sales for June were up 22 percent in the city to 1,587 units and rose 31 percent in the suburbs to 1,707 units.
Second quarter results in the attached segment of the market were similar to those for the first half of 2010. Unit sales totaled 8,809, an increase of 41 percent for the quarter compared to April-June 2009. City sales climbed 36 percent to 4,113 units, while in the suburbs, 4,696 units were sold, an increase of 46 percent.
The market time for attached units that sold in June dipped from an average of 173 days last year to 163 days this year.
Both the average and median prices for attached homes sold in June were down from those recorded a year earlier. The median price was $190,000, a decline of 8 percent, while the average sales price was $244,467, which represented a 1.3 percent drop.
"When you consider that about a third of all transactions in June involved distressed properties, it is rather encouraging that the average price for all homes sold in the metro area was two-and-half percent higher than it was a year earlier and the median price fell only 2 percent," said Merrion. "I think we're getting into a more stable pricing environment, which is something we've been missing for some time. If that does take hold, it will be much easier for buyers and sellers to act with a sense of confidence, and that alone would be a real boon for the housing market."
###