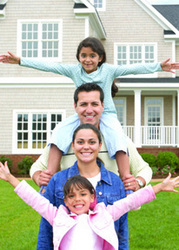 It's true in our northern Illinois region, but we hear that it is even more the case in other markets around the country. Many buyers are out to get a great price on just the home they want and feel they shouldn't settle for anything less
Chicago, IL (Vocus) June 24, 2010
The last three years have been characterized by declining U.S. home prices and a large inventory of available residences, so it's not surprising that many buyers in the metro Chicago real estate market and across Illinois are bargain hunters.
"It's true in our northern Illinois region, but we hear that it is even more the case in other markets around the country. Many buyers are out to get a great price on just the home they want and feel they shouldn't settle for anything less," said Jim Merrion, Regional Director of the RE/MAX Northern Illinois network.
Where should a home buyer look to find the best values? That depends on several factors.
"For some buyers, value means finding a home that is priced considerably lower than it would have been two or three years ago. For others, value means being able to buy something nicer than they expected to get," said Mark Bazzetta, an agent with RE/MAX Edge in Chicago's Lake View neighborhood.
"Value is a very individualized concept. My last buyer wanted an ideal location, even if that meant spending more than a similar home might cost in a less desirable spot. Before that, I worked with two buyers with very different priorities. One wanted a home with great features and finishes, while the other was looking at distressed properties hoping to maximize the square footage he could afford while still avoiding anything that would require a lot of initial remodeling," Bazzetta recalled. "So I feel it is vital for buyers to define their priorities before they can really pursue value."
Another aspect of getting a good value, said Mary Myzia, of RE/MAX Suburban in Schaumburg, Ill., is buying a house offering the space and layout that work for you, while also allowing you to live within your means.
"Many buyers today are extremely budget conscious, and that is a good thing. They have the attitude that if they can't get the house they want at a price they can afford, the smart move is not to stretch and pay more but to keep looking," Myzia said. "The comment I've heard that accurately characterizes this market is that it's a beauty contest taking place in the middle of a price war."
That budget conscious mindset can be wise, but it also can lead to some frustrations.
"One of my clients actually lost out on the same house twice. He was out bid the first time, and when that contract fell through, he was out bid again. So if you see what you believe is a very attractive value, the secret to getting it is to move quickly and offer what you think it's worth, rather than trying to pay as little as possible."
Another way in which buyers can undercut their own search for value is by not recognizing the difference between distressed properties, which include short sales and bank-owned foreclosures, and those homes being offered by private sellers who aren't in financial difficulty.
"Buyers make a mistake if they think all sellers have the same motivation," contends Vern Ohlson of RE/MAX TEAM 2000 in Orland Park, Ill. "Sellers of non-distressed homes typically aren't willing to offer the same kind of discount from market value that you can get with a distressed property. It's almost as if there are two different markets, and buyers need to understand that."
Value opportunities also vary by location, he noted. Some of the best values can be found in more recently developed areas where builders have unsold inventory.
In the Frankfort, Ill., area, for example, "a substantial number of builders have spec homes on the market right now that offer some great values," said Ohlson. "There was a time when builders wouldn't negotiate much on their asking price, but that is not the case right now. I've had builders tell me, 'don't be afraid to write an offer.' "
In central Lake County in the northern suburbs of Chicago, the best bargains right now are found at the upper end of the market, according to Sue Bissing of RE/MAX Suburban in Libertyville, Ill.
"People's way of thinking has changed a great deal. They just aren't as interested as they were a few years ago in big, expensive homes that cost a lot to maintain," she reported. "In my area, the real bargains now are between $800,000 and $1.2 million. One new home in our area sold for $990,000 last November, while a similar home by the same builder sold for $1.26 million two years ago."
Bissing advises buyers to narrow their search to a small geographic area.
"The smaller the area, the easier it is to understand the things that set homes apart and appreciate a good value," she said. To get the best values today, buyers have to know the marketplace because their competitors certainly do. "The average buyer I see today is much more savvy than in years past."
Patty Hamer of RE/MAX Experience in Sycamore, Ill., sells homes on the western edge of the Chicago metropolitan area. Buyers on a limited budget find her area appealing.
"Many buyers who come here are attracted to newer homes that are now foreclosures but also have been reasonably well maintained. They like the contemporary look and features of these homes, along with the low prices," she said. Hamer notes that many of these young buyers fail to appreciate the value in a comparably priced older home that offers higher quality construction, an in-town location, lower taxes and more mature landscaping.
Hamer believes strongly that buyers get the best value in the current market when they buy for the long term.
###