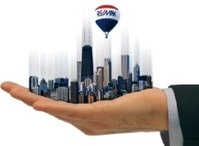 Home sales were up 23 percent in the second half of 2009, and with the first quarter increase for 2010 coming in at 38 percent, there certainly is cause for reasonable optimism after a very challenging few years of declining activity and prices
Chicago, IL (Vocus) May 10, 2010
The bounce back in home sales that began in the second half of 2009 continued to accelerate through the first quarter of this year and extended to nearly every corner of the metropolitan Chicago real estate market. Sales activity increased in all seven counties, led by improved sales of attached homes, according to an analysis by the RE/MAX Northern Illinois real estate network that compared sales activity in the first three months of 2010 to the same period in 2009.
Total homes sales in the metro area were up 38 percent in the first quarter to 14,351 units, and each of the seven counties in which RE/MAX analyzed sales activity recorded an increase of at least 14 percent. The counties are Cook, DuPage, Kane, Kendall, Lake, McHenry and Will.
Of the 258 suburban market areas and 77 city neighborhoods tracked by RE/MAX in the metro area, the number of homes sold rose in 216 suburban markets and 64 city neighborhoods.
"Home sales were up 23 percent in the second half of 2009, and with the first quarter increase for 2010 coming in at 38 percent, there certainly is cause for reasonable optimism after a very challenging few years of declining activity and prices," said Jim Merrion, regional director of RE/MAX Northern Illinois. "What remains to be seen is how much traction exists in the marketplace post the federal tax credits. We are confident the market will continue to improve."
The following are summaries of home sales activity in each of the seven counties and the City of Chicago.
City of Chicago
Total residential sales activity in Chicago was 4,312 units, up 42 percent, with sales of detached homes rising 36 percent to 1,923 units, and sales of attached homes surging 47 percent to 3,710 units. Sales of detached homes rose in 54 of 77 city neighborhoods, with strong gains on the city's Northwest Side in such areas Avondale, Belmont Cragin, Irving Park, Portage Park and Dunning.
Sales of attached units rose in 50 neighborhoods and were up sharply in the Loop and a number of communities on the North Side, with Rogers Park, West Ridge, Lincoln Park, Lincoln Square and North Center delivering strong percentage gains.
Cook County
Cook County saw its residential sales activity rise 43 percent in total to 8,717 units, with sales of detached homes up 38 percent to 5,007 units, and attached sales activity rising 49 percent to 2,495 units. Sales gains were even more pronounced when only the communities outside the City of Chicago are considered. For those markets, total sales rose 44 percent, thanks to a 53 percent increase in attached sales and a 40 percent jump in detached sales.
The county's west and northwest suburbs recorded some of the most impressive sales gains, including the communities of Berkeley, Berwyn, Brookfield, Cicero, Franklin Park, LaGrange, Mt. Prospect, Norridge, North Riverside, Park Ridge and Wheeling.
DuPage County
Residential sales totaled 1,521 units, up 39 percent in DuPage County for the quarter, led by sales of detached homes, which reached 1,521 units, a 40 percent increase. There were 506 transactions closed on attached units, a gain of 36 percent. Only five of the 35 market areas in DuPage did not see an increase in detached home sales. Among the communities with the largest percentage increases in sales of detached homes were Clarendon Hills, Glen Ellyn, Westmont and Wheaton.
Sales of attached homes were up or unchanged in 32 of the 35 market areas, and where decreases were seen, they amounted to no more than two units. Attached-unit sales rose sharply in the northern portion of the county, including Addison, Carol Stream, Elmhurst and Glendale Heights, as well as in Glen Ellyn, Oak Brook, Burr Ridge and Westmont.
Kane County
Kane County recorded the largest sales increases of any county in the metro area during the first quarter of 2010. Homes sales totaled 910 units, an impressive 54 percent rise. There were 728 detached sales, which also translated to a 54 percent increase, and 182 attached sales, delivering a 57 percent gain.
Aurora, Elburn, Elgin, Geneva and St. Charles accounted for most of the strong gains in sales activity.
Kendall County
Kendall County registered more modest increases in sales activity, in part because it did not see as sharp a drop in home sales last year as the six other counties in the metro area. Sales in Kendall rose 14 percent in the first quarter to 282 units, a gain largely attributable to a 69 percent increase in sales of attached units. Sales of detached homes rose just 2 percent to 211 units.
The surge in sales of attached homes was focused in the communities of Oswego, Plano and Yorkville. A year earlier, a total of 17 attached units were sold in these three communities, while this year 53 units were sold.
Lake County
With a total increase in home sales of 34 percent and comparable gains in detached sales (33 percent) and attached sales (38 percent), Lake County was a model of consistent improvement in housing activity. For the quarter, 1,214 homes changed hands, including 955 detached and 259 attached residences.
The increase in sales of detached homes was especially noticeable in the southeast quadrant of the county, including such communities as Buffalo Grove, Deerfield, Highland Park, Lake Bluff and Lake Forest. Sales of attached homes accelerated in a more geographically diverse pattern, with Buffalo Grove, Gurnee, Round Lake and Vernon Hills among the communities with the most substantial gains.
McHenry County
McHenry County home sales rose 24 percent during the quarter to 567 units on the strength of 468 sales of detached homes, a 34 percent increase over the prior year's first quarter. Attached sales fell 8 percent to 99 units, making McHenry the only county in the metro area to register lower sales during the first quarter in either the attached or detached home categories.
The increase in sales of detached homes was widespread, but was most pronounced in Cary, Crystal Lake, Fox River Grove, Island Lake and Wonder Lake.
Will County
Will County experienced a 15 percent rise in home sales during the first quarter when sales totaled 1,140 units, compared to 994 units a year earlier. There were 872 sales of detached homes, an 11 percent gain, and 268 attached home sales, resulting in a 30 percent increase over the 2009 total.
Though the increase in sales was toward the lower end of the range in the metro area as a whole, only 6 of the 34 markets that RE/MAX tracks in Will County experienced a decrease in sales, and several saw substantial increases, including Romeoville, Homer-Lockport, Homer Glen and Joliet.
###