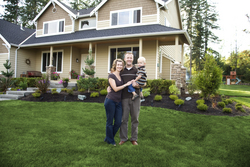 Unit sales in the January-June period also rose in each of the six other counties we analyzed
Chicago, IL (Vocus) July 27, 2010
The first half of 2010 yielded substantial gains in home sales activity in nearly every portion of the seven-county metropolitan Chicago real estate market, with Kane County leading the way, according to an analysis of sales data by RE/MAX.
Sales of detached and attached homes in the metro area rose to a combined total of 38,053 units, a 35 percent increase over the 27,757 sales recorded in first half of 2009. The RE/MAX analysis was based on sales information collected by Midwest Real Estate Data, LLC, (MRED), which is the regional multiple listing service.
Home sales in Kane County increased 61 percent, with 2,523 homes changing hands, compared to 1,564 sales during the first six months last year. Sales of detached homes in Kane rose 62 percent to 2,058 units and sales of attached homes climbed 59 percent to 465 units from the same period in 2009.
"Unit sales in the January-June period also rose in each of the six other counties we analyzed," said Jim Merrion, regional director of the RE/MAX Northern Illinois real estate network. "Sales of attached units made the sharpest recovery, gaining 43 percent in the metro area and rising 45 percent in suburban areas, which accounted for 53 percent of all attached sales."
Here is a summary of the results in the six other counties and the City of Chicago compared to the same period in 2009.
•Cook County: Total sales were 22,518, a 38 percent increase. Detached homes sales totaled 12,455, a 34 percent increase, while sales of attached units rose 44 percent to 10,063 units.
•DuPage County: Home sales totaled 4,301 units, a 37 percent increase. Detached sales rose 36 percent to 2,851 homes, while attached sales increased 39 percent to 1,450 homes.
•Kendall County: Total sales rose 29 percent to 769 units, led by an 81 percent increase in sales of attached homes, which totaled 213 units. Sales of detached homes were up 16 percent to 556 units, the smallest percentage gain in the seven-county area.
•Lake County: Overall sales rose 38 percent to 3,359 homes, as attached home sales rose 50 percent to 745 units. Detached home sales increased 34 percent to 2,614.
•McHenry County: With 1,494 sales recorded for the period, the county experienced a 29 percent increase. Attached sales were up 39 percent to 315 units, while there were 1,179 detached sales, a 27 percent gain.
•Will County: Total sales rose 21 percent, the smallest percentage gain of any of the seven counties. Detached sales were up 20 percent to 2,407 units, and attached sales climbed 25 percent to 682 units.
•City of Chicago: City sales totaled 11,231 units for a gain of 36 percent. Sales of attached properties climbed 41 percent to 6,532 units. Sales of detached homes rose 30 percent to 4,699 units.
In its analysis, RE/MAX also looked at sales activity in 263 suburban areas and 77 Chicago neighborhoods. Total home sales rose in 78 percent (204) of the suburban areas and 84 percent (65) city neighborhoods.
Here are results for some of the most active suburban markets: Sales rose 43 percent in Arlington Heights, 46 percent in Aurora, 289 percent in Des Plaines, 53 percent in Elgin, 78 percent in Evanston, 32 percent in Joliet, 19 percent in Naperville and 23 percent in Orland Park.
In Chicago, sales activity increase markedly in a number of neighborhoods. Those neighborhoods in which at least 100 more units changed hands during the first half of 2010 than in the same period of 2009 were: West Ridge (up 76 percent), North Center (up 63 percent), Lake View (up 42 percent), Lincoln Park (up 46 percent), Near North Side (up 39 percent), Dunning (up 75 percent), West Town (up 29 percent), Loop (up 82 percent) and Edgewater (up 70 percent).
"The overall pattern we saw was that sales numbers increased in just about all communities of the city and suburbs that are north, northwest or west of downtown Chicago in Cook, DuPage and Lake Counties. But the increases in activity were more irregular to the southwest and south of downtown and in Kane and McHenry Counties," said Merrion.
"I would not be surprised to see that pattern maintain itself through the remainder of 2010 because it reflects, to some degree, the geographical impact of the current unemployment problem. Unemployment is higher in the south half of Cook County and in Kane, Kendall, McHenry and Will Counties than it is in the northern half of Cook and in DuPage and Lake Counties."
RE/MAX is the leader in northern Illinois real estate sales. It has been number one in the metropolitan Chicago real estate market since 1989, closing more than $6 billion in sales last year. The RE/MAX Northern Illinois network consists of 2,500 associates and 120 individually owned and operated RE/MAX offices that provide a full range of brokerage services throughout the northern one-third of Illinois. Its http://www.illinoisproperty.com and http://www.remax.com websites are leaders in consumer visits among real estate brokerage brands. The northern Illinois network is part of RE/MAX LLC, a global real estate organization with nearly 100,000 sales associates in 80 nations.
###