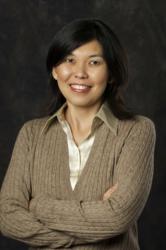 The blogs help me keep in touch with neighborhood residents presently active or interested in the local real estate market.
Chicago, IL (PRWEB) June 14, 2013
Kristine Chen Frost owes much of her success to enthusiastic referrals from hundreds of satisfied clients as well as a strong online presence including the Chicago real estate blogs E. Randolph St. and North Harbor Dr. She also has a new real estate search app for mobile devices which can be installed by texting "KFROST" to 87778 or downloaded here - 87778.mobi/KFROST. Kristine recently added new online Buyer tools for clients including a Mortage Calculator, a Closing Cost Estimator, and an Affordability Calculator.
"We are so proud of Kristine and her performance," said Michael Pierson, President and Chairman of Prudential Rubloff. "Kristine has always pursued excellence in customer service and serves as an example of the success that can be achieved by having a high standard of integrity and professionalism."
In the present fast-changing real estate environment with low inventory and often multiple bids, it is critical to have an experienced real estate professional such as Kristine working for you as she often knows of units before they are listed and brought to market on MLS and knows buyers who are waiting and looking for specific types of units or tiers. Kristine has helped hundreds of clients navigate successful real estate transactions.
About Kristine Chen Frost
Kristine Chen Frost has been working full-time in residential real estate serving all parties involved in residential real estate transactions including buyers, sellers, renters, landlords, and investors. Kristine joined Prudential Rubloff Properties last year. Kristine has earned several honors and certifications as well as the ABR, e-PRO, GREEN certifications.
Kristine is active in the local community and serves on the Parkshore Condominium Board of Directors.
For additional biographical information please visit Kristine's web site at: http://www.KristineChenFrost.com.
Kristine welcomes any interview requests or requests for comments about the Chicago real estate market and especially the Loop and New Eastside neighborhoods.
Media Contact:
Kristine Chen Frost, Prudential Rubloff
Broker Associate, CPA, ABR, e-PRO, GREEN
(312) 933-1894
ERandolph.com & NorthHarborDr.com