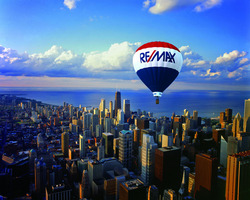 One sign that the market is becoming healthier is the continued decline in the percentage of homes sold that are distressed properties, a category that includes foreclosures and short sales
Chicago, IL (Vocus) June 17, 2010
The residential segment of the metropolitan Chicago real estate market again showed signs of stabilizing in May as transaction activity rose and average market times declined even though home prices were still under downward pressure, according to an analysis of home sales activity by the RE/MAX Northern Illinois real estate network.
When compared to May 2009, combined sales of residential units in the detached and attached categories in the seven-county Chicago metro area rose 34 percent last month, and those homes were on the market for an average of 164 days, rather than the average of 184 days recorded a year earlier. The RE/MAX Northern Illinois network recorded a 36 percent increase in May sales.
"One sign that the market is becoming healthier is the continued decline in the percentage of homes sold that are distressed properties, a category that includes foreclosures and short sales," said Jim Merrion, regional director of the RE/MAX Northern Illinois real estate network.
According to sale information compiled by Midwest Real Estate Data, LLC, 33 percent of May sales involved distressed properties, down from 35 percent in April and 42 percent in March of this year.
Nearly 2,500 distressed properties were sold in May, of which 71 percent involved foreclosures, with short sales accounting for the other 29 percent.
The average price of all detached homes sold increased nearly 2 percent to $259,573 when compared to May of 2009. In April, the average price was up 4 percent. The median price of a detached home slipped 2.5 percent in May to $200,000.
Prices of attached homes (typically a condominium apartment or townhouse) didn't hold up quite as well. The average sale price in May was $233,564, down 5.2 percent from $246,467 a year earlier after recording a 3 percent dip in April.
"Well presented homes are clearly selling faster when priced competitively, but prices continue to face pressure in most market areas, primarily because the inventory of unsold homes remains high and the sizable number of distressed properties on the market limits the pricing power of sellers," said Merrion.
Sales of detached homes in the seven-county area rose 29 percent and sales of attached homes bounded upward by 43 percent when compared to May of 2009.
On a county-by-county basis, Kane County showed the sharpest increase, with total home sales rising 78 percent, including a 107 percent increase in sales of attached units. Kendall County was next in line, with total sales up 42 percent, followed by Will County (up 37 percent), DuPage County (up 34 percent), Lake County (up 32 percent), Cook County (up 30 percent) and McHenry County (up 25 percent).
In six of the counties, the percentage increase in sales of attached units rose more sharply than that of detached homes. Only in Will County did detached sales outperform the attached segment.
Total residential sales in the City of Chicago climbed 31 percent in May compared to the same month last year, with sales of attached units increasing 38 percent and detached sales rising 21 percent.
Home prices in Chicago were on the rise in May, with the average price rising 6 percent to $290,147 and the median increasing 2 percent to $225,000. Prices of detached homes showed particular strength, with the average price rising 25 percent compared to May 2009, an indication that more homes in the middle and upper segments of the market were changing hands.
Prices in all counties, except for Will County, generally trended lower when compared to May of last year, with most declines in a range from 1 to 8 percent. Will County recorded increases of 1 percent in its median sales price and 2 percent in its average sales price, largely due to a 45 percent rise in the number of detached homes sold.
Average market times were almost uniformly lower for both detached and attached homes when compared to May of last year, with Cook County leading the way at 157 days, followed by DuPage and Will at 158 days. McHenry reported the longest average market time at 192 days. Market times increased only for attached homes in McHenry County and detached homes in Kendall County.
Though sales of distressed properties represented a smaller percentage of the market in May, the number of distressed homes sold was 22 percent higher than in the same month last year. Short sales increased 49 percent, and sales of foreclosures were up 13 percent.
"We'd like to believe that the increase in short sales suggests lenders are finally beginning to master the process of evaluating and approving short sales, but the average market time for short sales actually has been higher during the first five months of this year than during the same period last year, " said Merrion.
"Making the short sale process more efficient so that it helps homeowners avoid foreclosure has been a priority of RE/MAX nationwide for the last several years, and we are eager for our efforts and those of the government and the lenders to start paying dividends in this area. When average market times for these properties show a downward trend, it will be a positive indication, but we aren't there yet."
RE/MAX is the leader in northern Illinois real estate sales and has been number one in the metropolitan Chicago real estate market since 1989. In 2009, the RE/MAX network in northern Illinois closed more than $6 billion in sales.
The RE/MAX Northern Illinois network consists of 2,500 associates and 120 individually owned and operated RE/MAX offices that provide residential, relocation and commercial real estate services throughout the northern one-third of Illinois. The network's Web sites, http://www.illinoisproperty.com and http://www.remax.com, are two of the most popular real estate Web sites in northern Illinois and nationwide, respectively, according to Compete.com, Comscore and Hitwise, which are online intelligence services.
RE/MAX Northern Illinois is part of RE/MAX LLC, a global real estate organization with nearly 100,000 sales associates in 80 nations.
###