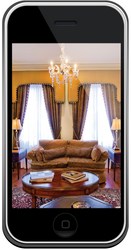 A key element of m.illinoisproperty.com is that there is no need to download and install an application to get the information you want. The technology is browser-based; so using it is as easy as searching for real estate on your computer
Chicago, IL (Vocus) May 24, 2010
The RE/MAX Northern Illinois real estate network has introduced a mobile phone based extension to its popular internet real estate website, http://www.illinoisproperty.com. Now all the MLS properties that can be seen at the illinoisproperty.com website can also be viewed on mobile phones at m.illinoisproperty.com. This new mobile real estate search platform will support any mobile device that has a browser, including advanced devices like iPhone, Android and Blackberry.
"A key element of m.illinoisproperty.com is that there is no need to download and install an application to get the information you want. The technology is browser-based; so using it is as easy as searching for real estate on your computer," states Casey Reagan, Chief Technology Officer of the RE/MAX Northern Illinois network.
RE/MAX Northern Illinois is part of a group of RE/MAX regions who are among the first real estate franchises to utilize a browser-based solution for mobile real estate search that allows consumers to save searches and denote favorite properties so that all of their preferences and all of their property research are fully accessible on either their mobile device or their PC. There is no need to reenter criteria multiple times. Consumers are able to use their mobile phones to access updates to their saved searches, including property details and photos because the mobile functionality and website functionality are fully integrated.
Every property listed with a RE/MAX Northern Illinois Affiliate gets its unique mobile web page. This allows agents to promote their clients' listings with individual mobile page addresses in advertisements and other media, including for sale signs, making it easy for prospective buyers to see full property details from their phone and to set up an appointment with the listing agent to view properties.
What distinguishes the m.illinoisproperty.com mobile platform is that every RE/MAX agent and office in northern Illinois is also provided with their own individual mobile website at no additional cost.
"RE/MAX prides itself on its agent centric business model. We have made significant investments in technology to ensure that each agent and office has their own mobile web page so they can deliver customized promotions of their clients' properties through a variety of media to ensure maximum public exposure. The result is that client properties are promoted through the hundreds of office websites and thousands of agent websites and now by both PC and mobile phone. There are currently 500,000 unique monthly visitors and 1 million registered members that make up the illinoisproperty.com system," adds Reagan.
The election to embrace the browser-based technology was the result of a strategic decision made between RE/MAX Northern Illinois and its web site technology provider, Reliance Network. "After extensive review of the available technology, it became clear that the trend is moving away from distributed applications and that a browser-based solution was going to be a more reliable and sustainable platform for the public. Changes in mobile telephones and their operating systems are occurring at break neck speed. So we, like many leading firms in other vertical markets, decided to adopt the emerging model of 'Software as a Service' (SaaS) to best serve our customers and make mobile search as efficient and productive for them as possible."
Mike Soroker, Chief Executive Officer of Reliance Network, provided the technology platform for the illinoisproperty.com web site when it was first launched in December 2003. The mobile search application is an extension of the web site. "We designed our mobile search to integrate seamlessly with the existing system and applications of RE/MAX Northern Illinois and our other major clients in order to simplify mobile and internet search. We will continue to work closely and in partnership with RE/MAX Northern Illinois as we continuously upgrade features on both to keep pace with consumer demand for ease and usability."
RE/MAX is the leader in northern Illinois real estate sales and has been number one in the metropolitan Chicago real estate market since 1989. In 2009, the RE/MAX network in northern Illinois closed more than $6 billion in sales.
The RE/MAX Northern Illinois network consists of 2,500 associates and 121 individually owned and operated RE/MAX offices that provide residential, relocation and commercial real estate services throughout the northern one-third of Illinois. The network's Web sites, http://www.illinoisproperty.com and http://www.remax.com, are two of the most popular real estate Web sites in northern Illinois and nationwide, respectively, according to Compete.com, Comscore and Hitwise, which are online intelligence services.
RE/MAX Northern Illinois is part of RE/MAX International, a global real estate organization with 6,500 independently owned offices and 93,000 member sales associates in 78 nations.
About Reliance Network
Headquartered in Holland, Pennsylvania, and its Operation Center in Bellevue, Washington, Reliance Network, LLC is the leading provider of web-based applications since 1997 for real estate professionals throughout the U.S. Internet applications include company Intranets and client portal Extranets, along with full marketing-oriented, completely customizable Agent websites with integrated property search. For more information, visit http://www.reliancenetwork.com.
###