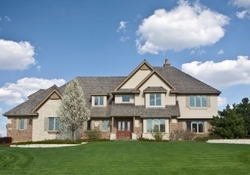 We broadly define the move-up segment in the Chicago area as encompassing detached homes priced from $300,000 to $700,000
Chicago, IL (Vocus) June 25, 2010
Home sales in the metro Chicago real estate market increased 40 percent during the first five months of 2010 compared to the same period of 2009. A major beneficiary has been the "move-up" segment of the market consisting of larger single-family homes, the kind people buy as their second or third home and often stay in until retirement.
The move-up segment of the metro Chicago market shrank from 35 percent of detached home sales in 2006 to just 20 percent in 2009. This year, move-up homes are selling in greater numbers, with sales during the January-May period 37 percent higher than last year though they represent only a slightly larger share of total sales.
The price of move-up homes varies widely across the metro market, starting at $225,000 in some areas but rising to as much as $900,000 in others.
"We broadly define the move-up segment in the Chicago area as encompassing detached homes priced from $300,000 to $700,000," said Jim Merrion, regional director of the RE/MAX Northern Illinois real estate network, "and no matter where you look in that segment, there are excellent values to be had these days."
One thing promoting the rebound in move-up sales, contends Robert Lohens of RE/MAX Properties Northwest in Park Ridge, Ill., is that many owners of entry-level properties understand the benefits of trading up now because the prices of their homes have fallen less than those of move-up properties in the last three years.
"If they can absorb the financial hit of selling a home for $240,000 that they may have bought for $300,000, they can buy a move-up home that is 35 percent cheaper than it was five years ago," he said. "Numerous homes in our area currently priced around $500,000 would have sold for $800,000 five years ago, plus buyers can get a phenomenal interest rate. It's a situation in which people can afford homes that were once entirely out of their reach."
For a closer look at the move-up market, RE/MAX asked several agents about the areas they serve in the metro Chicago area. Here's what they report.
Oak Park-River Forest-Forest Park
It's still a buyer's market with a large supply of homes though fewer than some months ago, reported Dorothy Gillian of RE/MAX in the Village, Realtors®, Oak Park. Prices of move-up homes start at $200,000 in Forest Park and top out around $700,000 in River Forest, with Oak Park prices in between. Gillian estimates prices are 15 to 20 percent lower than three or four years ago.
"We've fared better than many areas because of our excellent schools and close-to-the-city location. I think that is why the move-up market here is bouncing back nicely," she said. Home sales in the $300,000 to $600,000 price range rose 30 percent in those three communities during the January-May period, while sales of all detached homes climbed just 21 percent. The average sales price for a move-up property rose from $407,361 a year earlier to $425,075 this year.
North Central Lake County
Sales activity in the move-up segment in north-central Lake County is climbing back toward a more normal level after a long period in the doldrums, according to Laura Swinden of RE/MAX Suburban in Libertyville, Ill.
"A chunk of our business is corporate driven, and there is a change in that market. Senior and middle managers are starting to buy again. It's a positive change that is bringing new buyers to the move-up market. It's slow, but it is happening," she said.
Swinden defines the move-up segment in her area, which includes Libertyville, Mundelein, Grayslake, Gurnee and Lindenhurst, as homes priced from $350,000 to $900,000 and measuring 2,800 to 4,000 square feet.
This year, sales in that segment are up 21 percent through May. The average sales price in the move-up range fell to $485,610 from $494,507 a year earlier, a decline of less than 2 percent.
"There are many excellent values out there, and with interest rates low, it's a great buying opportunity," Swinden said. "We can't say if prices have hit bottom, but we're probably close, and those who wait won't have the great selection currently available."
Park Ridge, Edison Park
Edison Park, Chicago's most northwesterly neighborhood, and Park Ridge, Ill., the suburb adjoining it, are popular spots for move-up buyers. Through the first five months of 2010, the number of homes sold in the $450,000 to $900,000 price range has doubled over last year.
"The entry-level market was first to rebound, and that allowed those who wanted to move up to sell their home and do so," said Robert Lohens of RE/MAX Properties Northwest. "Prices for move-up homes have largely stabilized now, but buyers will still find great values."
Northeast DuPage County
"A recently updated home in top condition won't necessarily get more for sellers, but it will find a buyer much more quickly because move-up buyers are being very selective," said Rita Neri of RE/MAX Vision 212 in Chicago. Neri sells homes primarily in northeast DuPage County, including Addison, Bloomingdale, Itasca and Wood Dale.
Move-up buyers in Neri's market are being extremely patient, looking for exactly the right property before pulling the trigger on a purchase.
A typical move-up home in her area is priced from $350,000 to $550,000 (but can go as high as $700,000) and ranges in size from 3,200 to 3,700 square feet. Neri estimates that prices are down 12 to 35 percent since 2007. Even so, the move-up market is taking its time recovering, with sales up just 10 percent from a year earlier.
Homer Glen-Lockport-New Lenox
Move-up home sales have increased, but prices remain near their low point in the southwest suburban market area served by Steve Brashler of RE/MAX Impact in Lockport, Ill. The area includes Homer Glen, Mokena and New Lenox along with Lockport, and move-up sales totaled 112 properties through the first five months of this year, compared to 67 in the same months last year.
"Right now, the move-up market runs from $225,000 to $350,000 for a 2,000- to 2,800-square-foot, two-story or split-level home, but those $350,000 homes were priced at $500,000 just a few years ago though prices have stabilized lately," Brashler reported.
"People want to move up but are finding it hard to sell their entry-level home. The home buyer tax credit helped tremendously, but we'll have to see what happens next." The statistics bear out Brashler's view about prices in the move-up segment. The average price of a move-up home sold during the first five months of 2010 in his market area was 8 percent higher than during the same period last year.
Merrion believes the move-up segment is likely to be the star of housing market in the second half of 2010.
"The tax credit really stimulated sales of entry-level homes, and as those transactions close, many sellers are looking for something larger and finding a great selection and exceptionally attractive prices," he said. "If the economic recovery maintains its momentum, sales gains in the move-up segment could outpace the rest of the market through the first quarter of next year."
###