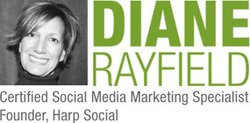 "We like to think it's proof of performance," describes Diane Rayfield, Certified Social Media Marketing Specialist. "We do for ourselves what we do for our clients."
Oak Brook (PRWEB) June 2, 2010
Harp Social is showing the power of its expertise with the number one return on Google for Chicago social media company searches. Harp staff, including recognized social media expert Diane Rayfield, and her counterpart on the search marketing side of the business, Cyma Saeed, have applied their trades well for the Oak Brook-based firm and its sister company, Harp Interactive.
"We like to think it's proof of performance," describes Diane Rayfield, Certified Social Media Marketing Specialist. "We do for ourselves what we do for our clients."
The success of Harp Social in achieving its high page ranking is testimony to the fact that a company doesn't need to be a giant to be successful. While larger interactive firms have struggled with what to do with social media, Harp Social is proving to be a leader.
About Harp Interactive:
Harp Interactive is an Oak Brook, IL-based, full-service advertising and marketing agency providing integrated solutions with the best of both traditional and online marketing. With extensive brand savvy, Harp applies and extends brands to all appropriate outlets, including packaging, collateral material, brochure and print ads, email marketing and website development. Harp Social is a leader in the emerging category of social media marketing, with certified expertise, tools, inventive ideas, and social media acumen to take SEO and social media marketing campaigns to the next level.
# # #