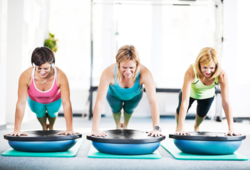 Of course It's hard.
it's suppose to be hard...
Hard is what makes it GREAT!
Chicago, IL (PRWEB) July 18, 2012
Successful personal trainer, Michelle Rossfeld, owner of Chicago Women's Fitness announces a plan to incorporate 30-minute workouts that deliver 60 minute results. The innovative workout system targets weight loss, body toning, and fat reduction.
According to Founder and CEO, Michelle Rossfeld, "The 30-minute workouts exclusively at Chicago Women's Fitness are a combination of high intensity interval training and resistance training. We mix it up with training methods such as super sets, circuit and complexes, which give you maximum results in the shortest amount of time."
Rossfeld at Chicago Boot Camp for Women went on to explain that to successfully increase the intensity of a workout or an exercise, changing the amount of weight used, rest time and interval speed is critical to maximizing results.
There are many studies that support the positive effects that higher intensity interval training has on body appearance and performance. Two of the most profound are that of Dr. Tabata and a research study on Excess Post Exercise Oxygen Consumption (EPOC). The effects of EPOC are directly correlated with the intensity of a workout; the more intense a workout is, the greater the effects of EPOC leading to faster weight loss. Several studies have concluded that weight lifting has the greatest EPOC effect with interval training at a close second.
"The key to a results driven 30-minute workout that continues to burn calories up to 48-hours after it's over is intensity. The difference between achieving or not achieving your ultimate weight loss goal is understanding this principle. Performing exercises or working out at a high intensity is hard and requires focus. However, the benefits of exercising at a high intensity for shorter amounts of time are well worth the sweat, you can burn up to 600 calories in 30 minutes and your physical appearance changes so quickly it is astounding" said Rossfeld.
"My jeans have gone from a size 14 to a 4 and I have already lost 46 pounds. Michelle has done a great job of motivating and challenging me. The workouts are hard but I keep coming back for more," said satisfied client, Liliana Huerta.
"After just a week with Michelle, I saw and felt immediate changes to my body and posture. In fact, I hit my goal in just the first 5 months of exercising at Chicago Women's Fitness boot camp classes! I lost 44 pounds and dropped 15.5% of my body fat. I have made a full lifestyle change and I feel more energized and confident. Becoming part of the Premier group of women has been the best decision I have ever made." – Shannon McNutt of Chicago Illinois.
For more information about Chicago Women's Fitness visit: http://www.chicagoswomensfitnesscamp.com