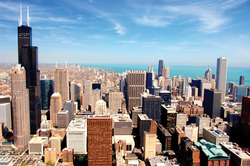 (Vocus) December 8, 2008
There is no better time to visit Chicago, the city that Lonely Planet Guidebooks just named the top U.S city in the world. As the home of President-elect Barack Obama and the U.S. Candidate city to host the 2016 Olympic and Paralympic Games, Chicago has captured the attention of the world.
In 2009, with new attractions, tours, and hotels; major anniversary celebrations; and an array of productions by Tony award-winning theaters, Chicago will continue to be a premier travel destination. For more information about planning a trip, call 1.877.CHICAGO or visit http://www.cityofchicago.org/tourism. Here is what to look for in 2009.
All information and dates were correct as of press time.
MAJOR ATTRACTIONS
Renzo Piano Modern Wing Opens at The Art Institute
The new 264,000-square-foot Modern Wing designed by Pritzker Prize-winning architect Renzo Piano opens on
May 16. It houses the Art Institute's collections of 20th century European painting and sculpture; contemporary art; architecture and design; and photography on three floors of galleries. The $300 million project also features an outdoor sculpture terrace; a garden courtyard; and a 600-foot-long pedestrian bridge, the Nichols Bridgeway, linking the museum directly to Chicago's popular Millennium Park. http://www.artic.edu
Beluga Whales and Dolphins Return Home as Shedd Aquarium's Oceanarium Reopens
The beluga whales and Pacific white-sided dolphins return to their newly-renovated, 3-million-gallon saltwater home when the Oceanarium, one of the most successful conservation-based marine mammal habitats in the world, reopens at the Shedd Aquarium in early summer. http://www.sheddaquarium.org
Buckingham Fountain: A Chicago Icon Gets a Face Lift
One of Chicago's most iconic attractions and Grant Park's crown jewel is undergoing a $25 million renovation and restoration and reopens on April 1.The project also includes a restoration of the pathways and landscaping that surround one of the world's largest fountains. http://www.restorethefountain.com
ANNIVERSARY CELEBRATIONS
Burnham Plan Centennial: Bold Plans Big Dreams
The celebration of the regional plan that shaped city planning and Chicago history begins on June 19 with the unveiling of two temporary pavilions in Millennium Park designed by acclaimed architects Zaha Hadid and Ben van Berkel. Hundreds of events, exhibits, concerts and building projects are planned to mark the 100th anniversary of Chicago architect Daniel Burnham's Plan of Chicago. Most events take place from June to October. The pavilions stay open for five months before they are taken apart and recycled. http://www.burnhamplan100.org
Award-Winning Millennium Park Celebrates Five Years
More than 15 million people from all over the world have visited this award-winning center for art, music, architecture and landscape design since it opened in July 2004. The 24.5-acre park features the Frank Gehry-designed Jay Pritzker Pavilion, the most sophisticated outdoor concert venue of its kind in the United States; the interactive Crown Fountain by Jaume Plensa; the contemporary Lurie Garden designed by the team of Gustafson Guthrie Nichol, Piet Oudolf and Robert Israel; and Anish Kapoor's hugely popular Cloud Gate sculpture. Free events and activities to celebrate the Park's 5th anniversary will be announced. http://www.millenniumpark.org
Abraham Lincoln Bicentennial: Special Events, Exhibitions, and Concerts
Chicago is an important national site for the Bicentennial celebration of Abraham Lincoln's birth (lincolnbicentennial.gov). Beginning in February, various special events, exhibitions, and concerts commemorate Lincoln's life and historic contributions. The celebration includes Lincoln Treasures, a special exhibition at the Chicago History Museum (http://www.chicagohistory.org) that incorporates the Museum's prized Lincoln artifacts; a Chicago Symphony Orchestra (http://www.cso.org) tribute featuring the legendary James Earl Jones narrating Aaron Copland's inspirational work Lincoln Portrait; and a gathering of all things "Abe" including appearances by historical characters at Navy Pier. (http://www.navypier.com)
CHICAGO ARCHITECTURE AND REAL ESTATE
Facade Revealed at Louis Sullivan Landmark
The restored façade and cast iron ornamental work of Chicago architect Louis Sullivan's landmark building at State and Madison streets (formerly Carson, Pirie, Scott) is being revealed in July. One of the most important structures of early modern architecture and a classic example of the Chicago School of architecture, it has been redeveloped as the Sullivan Center, a mixed-use retail/office building.
Block 37 Grand Opening in the Loop
With a grand opening scheduled for fall, this mixed-use development bounded by State, Dearborn, Randolph and Washington Streets, features a four-story mall including retailers such as Zara, Apple Computer, Puma and Lululemon, and a 16-story office building that is already home to CBS2's new studios. Plans include a hotel and residences to be phased in at a later date.
Trump Hotel & Tower: World's Tallest Residential Project Completed
At 92 stories and a height of 1,362 feet, the building will be the second tallest in Chicago and the tallest residential building in the world when it is completed later this month. The river walk retail shops and Sixteen restaurant's outdoor terrace, with one of the best views in the city, open in the Spring, when the entire project is scheduled to be completed. http://www.trumpchicagohotelcom
HOTELS
theWit Hotel: Eco-Friendly Luxury in the Loop
Opening in May, theWit – A Doubletree Hotel is a 298-room eco-friendly luxury hotel in the heart of Chicago's Loop and Theater District. It features a 40 person private screening room, a rooftop indoor/outdoor lounge, an upscale Gastro Pub, and a chef-driven fine dining restaurant. http://www.thewithotel.com
Hotel Felix: Upscale Boutique in the Gold Coast/River North
This 225-room upscale boutique property in the Gold Coast/River North emphasizes beautiful craftsmanship and environmentally conscious design. Opening in the spring, the hotel features a 1926 historic exterior, a contemporary two-story lobby with a uniquely designed water element, and a restaurant with a lounge and outdoor café. http://www.hotelfelixchicago.com
TOURS
Chicago For Kids Audio Tour: Unique Way to Learn About the City
Kids can go on adventures throughout the city with this audio tour and interactive web site. It features eight destinations plus games and challenges that highlight the rich culture and history of Chicago. Stops include Millennium Park, The "L", the Picasso Sculpture, and North Avenue Beach. Interviews with famous Chicagoans including former Chicago Cub Ryne Sandberg and cheesecake manufacturer Marc Schulman provide kids with the ultimate insider's view of Chicago. http://www.downloadchicagotours.com
Chicago Architecture Foundation Launches Four Walking Tours
See the architectural capital of the world and its rich legacy from a fresh angle. http://www.architecture.org

Palmer House Hilton - Go behind-the-scenes and explore the history and legacy of an historic Chicago landmark and learn the details of its recent renovation.
River North: Transformation of a Neighborhood - See how an industrial area was transformed into a residential neighborhood and a center for art and design.
Daniel Burnham: Architect, Planner, Leader – Celebrate the centennial of the Burnham Plan of Chicago by visiting buildings and sites where Daniel Burnham and his colleagues helped recreate Chicago as a model for the modern American city.
Sculpture in Lincoln Park - See how world-famous artists have transformed the landscape of one of Chicago's most beautiful parks with sculpture and art installations.
THEATER
Broadway Comes to Chicago
Highlights of the 2009 Broadway in Chicago (http://www.broadwayinchicago.com) season in the historic Downtown Theater District include:

Monty Python's Spamalot, an outrageous musical comedy starring Richard Chamberlain, January 20 – February 1
Chicago The Musical with John O'Hurley, a sensational tale of sin, corruption and all that jazz, February 25-March 8
A Bronx Tale, a vivid depiction of a child's tough youth in the 1960s with Chazz Palminteri, March 10-22
Mary Poppins, the world's most famous nanny arrives in Chicago beginning March 11
A Chorus Line, the multi-award winning story of 17 dancers at an audition, April 14-May 3
Legally Blonde, the hilarious film is Broadway's new smash hit musical, May 12-May 31
Tony Award Winning Theaters Call Chicago Home
Four Chicago theaters, Steppenwolf Theatre, Goodman Theatre, Victory Gardens and Chicago Shakespeare Theater, have all received the prestigious Regional Tony Award, more than any other city in the nation. 2009 highlights at these theaters include:
Steppenwolf Theatre, http://www.steppenwolf.org

The Seafarer, an eerie, darkly humorous tale by celebrated playwright Conor McPherson featuring Steppenwolf ensemble members including John Mahoney (of NBC's Fraiser), examines how we face the demons of our past as we struggle to find redemption, through February 8
Art, a heated debate over modern art colors this rich comic study of male friendship, February 5-June 7
Goodman Theatre, http://www.goodmantheatre.org

Desire Under the Elms, featuring Brian Dennehy in the master playwright Eugene O'Neill's classic family drama that hauntingly mingles love and loathing, January 17-February 22
Rock 'n' Roll, Tom Stoppard's sweeping and passionate play spans two countries, three generations and 22 turbulent years, at the end of which love remains-and so does rock 'n' roll, May 2-June 7
Victory Gardens, http://www.victorygardens.org

Living Green, a modern day homage to "A Raisin in the Sun," this timely new work asks "What happened to our families as we 'moved up' and fled the black communities that nurtured us?", January 23-March 1
Blackbird, William L. Petersen of CBS-TV's CSI stars in this searing two-person drama about the destructive cycle of desire and illicit love, July 3-August 9
Chicago Shakespeare Theater, http://www.chicagoshakes.com

Sweet William, Michael Pennington, one of Britain's leading Shakespearean actors, performs a one-man show he created based on the Bard's work, February 3-22
Twelfth Night, a tale of mistaken identity and unlikely love, is Shakespeare's most perfect comedy, March 29-June 7
Chicago's Olympic Bid
In June of this year, the International Olympic Committee selected Chicago as the U.S. Candidate city to host the 2016 Olympic and Paralymic Games. The final selection will be made in October. Chicago is honored to be competing for the privilege of hosting the 2016 Olympic and Paralympic Games alongside such world-class cities as Madrid, Rio de Janeiro, and Tokyo. http://www.chicago2016.org
The Chicago Office of Tourism, a division of the Department of Cultural Affairs, is the official City agency dedicated to promoting Chicago to domestic and international visitors and to providing innovative visitor programs and services.
Note to media: Images are downloadable at http://www.cityofchicago.org/tourism or by contacting Joyce Rowe, joyce.rowe @ cityofchicago.org, 312.742.2036.
###