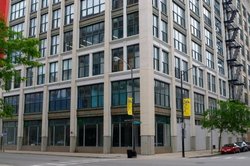 Chicago, IL (Vocus) March 26, 2010
Tailor Lofts Student Apartments in Chicago is well on its way to filling with preleases from area students attending UIC, Columbia College, Chicago Kent College of Law, Robert Morris, DePaul, and dozens other nearby schools. Unlike the usual on-campus housing for colleges or universities, Tailor Loft's apartment homes provide privacy, luxury, security, as well as easy access to a number of downtown restaurants, stores, and cultural centers. Plus, the apartment's great community of young students loves to stay involved with a wide range of activities going on in the city.
Situated in the heart of Chicago's West Loop, one block from Greek Town and only two blocks from the Blue Line CTA, this premier student housing in Chicago is a redevelopment of a historic landmark that is conveniently located near many area schools. When completed, Tailor Lofts will have 477 beds in 135 fully-furnished units with full kitchens including dishwashers, private bathrooms, and beautiful views of downtown Chicago.
As the recommended housing partner for Chicago-Kent College of Law School students, Tailor Lofts is a smart housing choice. The Lofts are conveniently located only about a half mile from the law school, right in the heart of the city.
Tailor Lofts is a great living option for students of the following schools:
Robert Morris College
Roosevelt University
Rush University
Spertus College
University of Chicago
University of Illinois - Chicago
Argosy University
Chicago State University
Columbia College Chicago
Depaul University
DeVry University
East-West University
Illinois College Of Optometry
Illinois Institute of Technology
Lexington College
Loyola University Chicago
Moody Bible Institute
Chicago - Kent College of Law
Harrington College of Design
John Marshall School of Law
Harold Washington College
With all area conveniences and only a 2 block walk to the Blue Line CTA, Tailor Lofts is an ideal off-campus option for young people looking for Chicago college apartments. Tailor Lofts is the ideal location for the students at UIC (University of Illinois at Chicago). Different than other off campus housing option around, Tailor Lofts will provide dishwashers in every apartment.
Tailor Lofts is the only Chicago student housing complex in the city that will offer brand new apartments with private bedrooms and bathrooms! Unlike other housing options in the area Tailor Lofts apartments in Chicago will have washers and dryers on every floor to offer students the convenience they need.
Tailor Lofts offers true privacy in every apartment. The Tailor Loft's building will have floor to ceiling walls in every room. Residents of the Chicago college housing community will be able to enjoy spending time with roommates as well as enjoying alone or study time. For an even quieter place to study, residents will have the luxury of going downstairs to our study room where wireless Internet will be provided.
Tailor Lofts will offer a 24-hour fitness center with TV's on each piece of equipment. There will be 2 treadmills, 3 elliptical machines, and 2 stationary bikes. In addition there will be free weights ranging from 5 to 50 lbs, weight machines, and mats to stretch out on. The fitness center will be a part of our overall package at no additional charge. This is an additional cost-savings amenity that residents will enjoy rather than paying for a separate gym membership.
Tailor Lofts is the only high-rise building in the West Loop that provides free tanning to all residents. This will be available to residents during office hours and by appointment.
DVR will be provided to all residents in the Tailor Lofts Chicago student apartment community. With our U-Verse package through AT&T, residents will never have to miss their favorite program! Residents will have the convenience of recording their favorite shows while they are in class or at work; then come home and have it ready for them to watch! And one of the most popular benefits is having the ability to skip commercials!
Unique to this student apartment in Chicago is the historic clock tower mounting the building. This clock tower has been a part of the building for years but not up until recently was it completely renovated. The clock tower can be seen from miles away at night it is lit up with true time.
Place Properties, an affiliated group of companies, is one of the country's largest multifamily development and management organizations in the country. Since 1995, Place Properties has developed more than $1.4 billion of student and military housing communities and currently manages more than 21,000 beds.
###