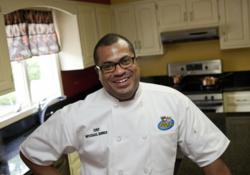 Chef Bonner excels at quality and reliability. This is an important step to reestablishing the Moo & Oink brand with an unparalleled level of excellence and originality.
Chicago, IL (PRWEB) July 31, 2012
Moo & Oink, LLC, the iconic Chicago BBQ brand, named Chef Mychael Bonner as its Corporate Brand Chef. He is available as the Moo & Oink spokesperson for events and as an enlightened and entertaining television personality.
Bonner is charged with originating recipes for Moo & Oink and making the popular products even better. He is currently working on a new dry rub spice for Moo & Oink products which will be tested at the Moo & Oink test kitchens.
"We welcome Chef Bonner to our Moo & Oink team," said Dave Van Kampen, Chief Herding Officer of Moo & Oink and President and COO of Best Chicago Meat. "He excels at quality and reliability. This is an important step to reestablishing the brand with an unparalleled level of excellence and originality."
A veteran of the restaurant industry for more than 20 years, Chef Bonner's experience started when he was a child watching his mother and grandmother in the kitchen at the historic Peabody Memphis Hotel.
As a high school student in Muncie, Ind., he began cooking at The Flamingo. It sparked his interest so much he decided to attend the Culinary Institute of Chicago. After graduating, he began working as a Sous Chef at The Signature Room at the 95th atop Chicago's John Hancock Center. At that point he decided to broaden his skills and refine his palate, so he traveled the world, learning and cooking in France, Italy, New York and San Francisco.
In 1992, Chef Bonner joined Maggiano's and in 1993 became vice president of Culinary Operations and opened 36 Maggiano's restaurants across the United States.
Today he is a partner at Lettuce Entertain You Restaurants and the executive chef of Di Pescara, Petterino's, Reel Club and Saranello's.
He prides himself on taking a clean and fresh approach to food with interesting and wonderful results. He is known for fresh ingredients and culinary innovation. He considers his role as chef paramount to the success of a brand or restaurant.
Moo & Oink is known for its selection of meat and rap-based commercials in the '80s and '90s, and it was thought to be gone forever after last year's bankruptcy of the Moo & Oink grocery stores. Best Chicago Meat Co., LLC, purchased the Moo & Oink brand in Dec. of 2011 and has brought the most popular items to grocery stores across the Chicagoland and Northwest Indiana area.
Currently Moo & Oink rib tips, burgers, hot links, hot dogs and BBQ sauce are available at more than 250 grocery stores throughout Chicagoland with more growth on the horizon.
Best Chicago Meat LLC manufactures in a Chicago neighborhood, too, and currently produces ground beef, sausage, hot dogs and Italian beef under the brands Glenmark, Jemm Burger and David's Kosher. In addition, Best Chicago Meat stands strongly behind its customers by supporting local programs that promote family and neighborhood values such as youth sports programs, high school intern programs, community events and local and regional festivals.
Best Chicago Meat can be reached at 773-523-8161 or visit: http://www.moo-oink.com.