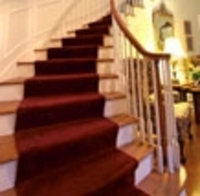 Franklin Park, IL (PRWEB) September 22, 2009
Boutique Chicago flooring company, Romar Flooring Inc., is expanding the reach of its customer carpet pad recycling program and making it available to the general public. Previously, the pad recycling services were only available to customers currently serviced by Romar Flooring, but the newly launched program will be open to clients, even if they have not used Romar Flooring for their flooring or carpeting needs.
More than 100 million tons of carpet is thrown away every year. Carpet pad recycling is a convenient, environmentally friendly way to get rid of one's carpet without adding to the landfill. Pad recycling programs prevent large amounts of waste by recycling old carpets to make other products such as geotextiles or carpet tack strips and even new carpeting. Romar Flooring intends to provide this Chicago carpet service to help prevent further waste and landfill in the region.
"Carpet pad recycling is not half as popular as it should be, and with our new pad recycling program, we hope more clients will choose to have their carpet recycled instead of just tossing it into the trash. At Romar, we are very environmentally conscious, and all of our flooring solutions are environmentally friendly as well, so we figured a pad recycling program is the perfect addition to the list of services we offer," says Mark Ruby, Owner of Romar Flooring Inc.
In an attempt to encourage new customers to consider carpet pad recycling, the Chicago carpet and flooring company is also including a free pick-up service for customers who utilize the recycling program.
Romar Flooring prides itself in making carpet and flooring solutions easily accessible to customers by allowing them the convenience of in-home shopping and consultations with professionals. In addition to the newly launched pad recycling program, Romar Flooring has a variety of other flooring and carpeting services on offer such as carpet installation and removal, binding, serging, pre-finished and unfinished wood installations and maintenance and repairs.
"We are a small firm and we choose to stay that way so we can keep providing personalized service to our clients. Whether it's a standard office installation or a more customized flooring solution, we take great pride in offering high quality personalized service to our customers while always ensuring we do what is good for the environment too and the pad recycling program is just another way of doing just that," concludes Ruby.
About Romar Flooring Inc.: Romar Flooring (http://www.romarflooring.com/) is a small but well-established flooring business. Owned by Mark Ruby, the company believes in providing personalized services to all its clients while providing them with affordable, excellent quality flooring solutions. Romar Flooring has provided flooring to residential and commercial clients and created custom flooring as well.
###