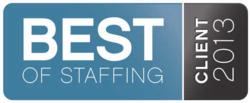 Smaller, entrepreneurial firms are growing and looking to hire.
Chicago, Illinois (PRWEB) May 23, 2013
A recent hiring survey of HR and corporate employers, conducted by Chicago staffing firms Smart Resources and Accountable Search, shows improving trends in the Chicago job market.
A variety of large and small Chicago-based firms were surveyed and results showed that 35% of respondents believe their companies are adequately staffed, given the demands of the marketplace for their goods/services. 33% of the companies surveyed were planning on hiring new staff while 19% were reducing headcount, and/or plan on doing so in the future.
As for the overall Chicago job market, human resources, and other company managers foresee the hiring market improving, albeit slowly. Over 65% are predicting selective hiring to continue, while 6% see better than average job growth. But the job trends are still not all positive with 19% seeing more layoffs ahead.
"The survey seems to prove out what we've seen in past recoveries; larger companies reducing or maintaining headcount to control costs, and the smaller, entrepreneurial firms growing as we begin to come out of the woods," reported Tim Flood, President of Smart Resources Staffing and Accountable Search.
As business conditions improve, 15% of the Chicago companies surveyed will look to current employees for referrals to fill new positions, while almost half (46%) will use media, such as online, newspaper or trade magazines, to find candidates. Almost 38% of respondents said they would use recruitment or temporary staffing and project management firms to assist them in future staffing needs. This continues the national trend of increased use of staffing firms to fill gaps and give companies the flexibility they need in a shifting economy. Recent data suggests that almost 40% of workers are part-time, temporary or working short-term contracts.
"There is an obvious synergy between flexible staffing and uncertain economic times. And, about 60% of the temporary job orders we are seeing have the potential to go full-time/permanent," said Flood.
Key challenges for Human Resource managers are employee morale, training, and improving skill sets.
For more information and temporary staffing solutions visit smartstaffing.com or call Tim Flood at 312-696-5306.
About Smart Resources and Accountable Search:
Chicago staffing agencies Smart Resources, Inc., and its sister company, Accountable Search, were named "Best of Staffing" by Careerbuilder.com for the 4th year in a row.
"Best of Staffing" recognizes staffing agencies that receive remarkable reviews from their clients and the people they help find jobs (employed talent). Smart Resource's 'satisfaction' ratings were among the top 1% of staffing firms in North America. Client satisfaction scores were 250% higher than the industry average.
Smart Resources was founded in 1994 to offer the Chicago market a superior experience for temporary and temp-to-hire staffing. The firm staffs a variety of office positions for temporary administrative staffing needs in Chicago, and specializes in placing full-time executive assistants; their Accountable Search division specializes in accounting and finance staffing. The company has developed a unique process for screening candidates, building relationships with their work force, and for getting to know companies they work with in order to consistently provide a successful match to everyone involved.
###