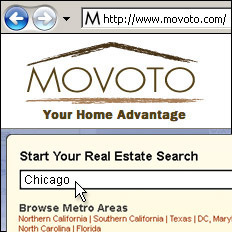 It's very important for a buyer to stay on top of new listings if they want a great deal. Listings come and go quickly so you need to identify the listings you like and quickly get in with your agent so you can pursue the best opportunities
Chicago, IL (PRWEB) August 12, 2009
Movoto.com announced coverage of the residential real estate market in the Chicago, Illinois metropolitan area today. Real estate buyers can now access over 90,000 active homes for sale listings in Northern Illinois communities using Movoto.com. The company offers a complete solution for consumers, helping real estate buyers from start to finish through the process of buying homes for sale. Movoto's search tools display multiple listing service (MLS) homes for sale listings, market statistics, local stores, local school information and proprietary real estate information. Additionally, home buyers and sellers can access Movoto's network of trusted, local real estate agents from well-regarded brokerages when they are ready to buy or sell a home.
Real estate agents are invited to join Movoto based on an objective evaluation process that finds agents with in-depth knowledge of local market conditions, years of experience, and a history of helping buyers, from first-timers to seasoned investors. An experienced real estate agent is especially helpful when buying foreclosure properties. In Chicago, Movoto has partnered with a local Century 21 office to ensure buyers stay informed about foreclosure and short-sale opportunities. "It's very important for a buyer to stay on top of new listings if they want a great deal. Listings come and go quickly so you need to identify the listings you like and quickly get in with your agent so you can pursue the best opportunities," said Jeff Sangerman, broker of Century 21 Universal in Chicago.
"We are excited to offer our service to Northern Illinois real estate buyers. First time home buyers still have an incredible opportunity to buy homes for sale at bargain prices and to capitalize on the $8,000 2009 tax incentive," said Henry Shao, CEO of Movoto.com. "Movoto provides a unique advantage in connecting new and experienced home buyers alike with skilled real estate agents. Today's entry level market is mostly short sales, foreclosures and REO (bank-owned properties), and these transactions are especially complicated because they require negotiation with one or more financial institutions. It's key for the first time buyer to engage an experienced, ethical real estate agent to help buy their dream home."
Mary Wallace, Realtor with Coldwell Banker in Oak Lawn, is an example of the many top-rated agents that partner with Movoto. "I have a strong determination to exceed my clients' expectations. I look forward to giving my Movoto buyers the same great service that has earned me awards at my office for the past 6 years."
Movoto's patent-pending technologies continually search thousands of homes for sale listings in local real estate databases and also present other informative data about housing neighborhoods in a convenient format. Details about local demographics, crime statistics, and school performance indices are customized for the Chicago metropolitan region by ZIP code.
The services of Movoto.com are offered free of charge to consumers. There is no obligation to buy a home with an agent who partners with the service.
About Movoto
Founded in 2005, Redwood-City-based Movoto is led by an experienced team of real estate industry veterans and internet technology experts with a shared vision of empowering real estate consumers. Movoto provides a unique online home buying solution that combines innovative, easy-to-use research tools with ready access to a network of pre-qualified and experienced local agents. Movoto's expanded service adds homes for sale listings from the Chicago metropolitan area and the Northern Illinois suburbs to Movoto's current coverage of homes for sale in Arizona, California, Florida, Georgia, Maryland, Massachusetts, North Carolina, Texas, Virginia, and Washington DC.
About Century 21 Universal
Century 21 Universal is a full service real estate brokerage that serves Chicago, IL and the surrounding north suburbs. The Century 21 Universal team has been in operation under Jeff Sangerman, real estate broker, since 1995. He has grown his full-service brokerage to employ over 100 agents. Over the last 14 years, the office has received both the Quality Service and Prestige Centurion Awards from Century 21.
###