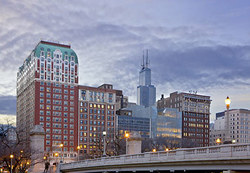 Robert, Ryan and Matt bring impressive management experience and a results-driven outlook to The Blackstone and we look forward to their combined efforts and successes
Chicago, IL (PRWEB) October 11, 2009
The Blackstone Hotel in Chicago has announced the appointments of three executives to head up the historic property on Michigan Avenue: Robert Cartwright as General Manager; Ryan Buck as Director of Sales, Catering and Events; and Matt Balcik as Hotel Manager. The appointments come as the downtown Chicago luxury hotel embarks upon a new generation after its reopening following a $128 million renovation.
"Robert, Ryan and Matt bring impressive management experience and a results-driven outlook to The Blackstone and we look forward to their combined efforts and successes," said Alexandra Walterspiel, Vice President of the Independent Hotel Collection of Sage Hospitality Resources, owner and operator of The Blackstone.
Robert Cartwright, General Manager
A sales-focused and bottom-line-driven hospitality professional with close to two decades of management experience at the upscale end of the industry, Robert Cartwright is responsible for all operations at The Blackstone, including overseeing the hotel's new management team. Cartwright joins The Blackstone from Starwood Hotels & Resorts, where he has spent the vast majority of his career. His most recent Starwood assignment was as General Manager of Sheraton San Diego & Marina, a 1,053-room urban resort and convention facility named one of the city's "best places to work" by the San Diego Society for Human Resources Management during the first year of Cartwright's tenure. Previously, Cartwright held an array of management positions with Starwood, including Senior Director of Six Sigma for the Southern California Region (2004-2006); Resort Manager of St. Regis Resort, Monarch Beach (2003-2004); and Hotel Manager of Sheraton San Diego Hotel & Marina (2002-2003). He got his start in hospitality as Finance Department Coordinator for Sheraton New York Hotel & Towers in 1991.
Born and raised in Brooklyn, Cartwright received a Bachelor of Science in Economics from State University of New York in Oneonta and continued his studies at the Cornell University School of Hotel Administration. He has served on the board of several professional organizations, including the San Diego Convention and Visitors Bureau. Cartwright is married with two children and is a talented artist.
Ryan Buck, Director of Sales, Catering and Events
With plenty of hotel experience - including a year at the Blackstone as Senior Sales Manager - Ryan Buck is responsible for leading the Grant Park hotel's sales, catering and events teams as well as handling the Northeast and West Coast corporate markets at The Blackstone. Buck spent the last year as Associate Director of Sales at the Swissotel Chicago, where he started as a Sales Manager in 2002 after graduating from Valparaiso University. Since then, he's worked in sales in San Francisco and Miami Beach, as well as a stint as Senior Sales Manager at the Blackstone from 2007-2008. He now returns to the hotel in his hometown of Chicago where he spends his free time as a guitarist, vocalist and lyricist for a metal band and is also penning a novel and original screenplay with his wife.
Matt Balcik, Hotel Manager
With seasoned hospitality experience including overseeing multi-million-dollar hotel budgets at luxury properties in the Caribbean, Balcik is responsible for day-to-day operations at The Blackstone. Before joining The Blackstone, Balcik spent the past year as General Manager of Peter Island Resort, a 1,800-acre private island retreat in the British Virgin Islands. Previously, Balcik held a series of management positions in the Caribbean, including General Manager of Westin Resort & Casino on Aruba from 2007-2008, and General Manager of Westin St. John Resort & Villas, which he joined as Director of Rooms in 2001 and promptly began working his way up. Matt is a soccer fanatic and loves to cook Mediterranean food, a skill he honed while owning a small Italian restaurant in California right out of college.
For more information or to make reservations for The Blackstone in Chicago, please phone 312-447-0955 or visit http://www.marriott.com/hotels/travel/chirh-the-blackstone-a-chicago-renaissance-hotel/.
About The Blackstone
The Blackstone is located in the heart of Chicago's arts and theater district and adjacent to Grant Park. The historic property is a Beaux-Arts architectural landmark offering 332 stylish rooms, among them the fabled Presidential Suite and legendary "Smoke-Filled Room"; the award-winning destination restaurant, Mercat a la Planxa, serving Catalan-inspired cuisine; an extensive collection of contemporary art primarily by emerging artists; a 23rd floor Concierge Lounge with sweeping views of Lake Michigan; and 12,000 square feet of meeting space, including the lavishly restored Crystal Ballroom. Opened in 1910, closed in 1999, and reopened in 2008 following a $128 million showcase restoration by Sage Hospitality, The Blackstone's décor is a dynamic mix of historic architecture and savvy design combined with luxury amenities and thoughtful guest services.
About Sage Hospitality
Founded in 1984, Sage Hospitality has strategically grown into one of the largest privately held hotel management and development companies in the nation and is recognized as a leading innovator in the field. During the past eight years, the Denver-based firm has completed more than $600 million in acquisition and development projects, using some of the most unique financing structures in the industry. Sage Hospitality's comprehensive management portfolio includes major international brands as well as independent boutiques and hotels, including the Oxford Hotel in Denver.
In 1997, Sage Hospitality pioneered the company's urban redevelopment initiative converting the blighted Joslin's department store in downtown Denver into a showplace Courtyard by Marriott. Since then, Sage Hospitality has preserved and transformed five additional, underused national landmark buildings into award-winning hotel properties that serve as important catalysts for downtown revitalization. Projects include the historic Blackstone hotel in Chicago and the upcoming Portland hotel The Nines in the historic Meyers and Frank building. For more information, please visit http://www.sagehospitality.com
###