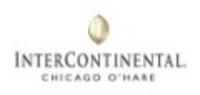 The InterContinental Chicago O'Hare is a great new addition to the existing hotel community in the fast-growing Rosemont area
ROSEMONT, Ill. (PRWEB) January 25, 2008
The American Society of Health-System Pharmacists, a professional organization of 30,000 members based in Bethesda, Md., is the first group to take advantage of The InterContinental Chicago O'Hare's prime location, expansive meeting space and on-site entertainment.
"We are excited to welcome the respected American Society of Health-System Pharmacists to the new premier location in the greater Chicago area for group meetings," said David Hall, general manager of InterContinental Chicago O'Hare. "We know that the group will benefit from our state-of-the-art meeting facilities, luxurious guestrooms, multiple culinary choices and our original art collection which can be discovered throughout the hotel."
Groups have everything they need at their fingertips, including world class dining with renowned brands McCormick & Schmick's, Osteria di Tramonto, and The Capital Grille and live entertainment at the hotel's premier in-house theater and art gallery. The property boasts 53,000 square-feet of prime meeting and event space, offering sophisticated travelers unsurpassed 4-star service and exquisite amenities.
"The InterContinental Chicago O'Hare is a great new addition to the existing hotel community in the fast-growing Rosemont area," stated Fran Lappin Byrnes, senior manager, conference planning, American Society of Health-System Pharmacists. "It promises to offer attendees and travelers a unique product including new choices for night life and upscale dining. American Society of Health-System Pharmacists is excited and looking forward to meeting there in 2009 and to a continued successful relationship with InterContinental."
The hotel is within close proximity to the Allstate Arena and Rosemont Theatre, and convenient to McCormick Place and Chicago's Loop. Luxurious Presidential and Governor's Suites feature spa baths, walk-in closets, fireplaces and ample space for entertaining VIP's. One-of-a-kind suite packages include white glove butler service and one's very own chef.
The InterContinental Chicago O'Hare is the first luxury hotel in the Rosemont area, focusing exclusively on providing guests with an authentic Chicago experience. For reservations call 847-544-5300, or visit http://www.icohare.com.