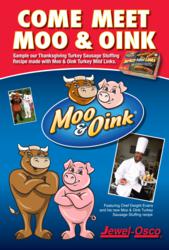 The five Jewel-Osco cooking demos with Moo & Oink will feature samples, coupons, raffles, photos with Moo & Oink, and recipe handouts.
(PRWEB) October 30, 2012
Moo & Oink will host cooking demonstrations at Moo and Oink "Meet n' Greet" events with customers in November at several Chicago Jewel-Osco locations. The demos will feature samples, coupons, raffles and recipe handouts.
Chef Dwight Evans II, Moo & Oink corporate chef and "Grill Master Extraordinaire" will cook and offer samples of mild turkey links along with his original, specially-created sausage stuffing recipe, and he will share this recipe with customers.
The life-size characters Moo and Oink will mingle with fans and be available for photos. Photos will be printed on the spot and given to customers, free of charge.
The Moo & Oink visits will take place from noon to 4 p.m. on:

Friday, Nov. 9, 9400 S. Ashland, Chicago, IL
Saturday, Nov. 10, 87 W. 87th St., Chicago, IL
Thursday, Nov. 15, 443 E. 34th St., Chicago, IL
Friday, Nov. 16, 7530 S. Stony Island, Chicago, IL
Saturday, Nov. 17, 1655 E. 95th St., Chicago, IL
At the events, customers will receive coupons for Moo & Oink products and the chance to participate in free raffle drawings taking place every hour. Prizes include Moo & Oink T-shirts and boxes of Moo & Oink Mild Turkey Links.
Chef Evans serves as Moo & Oink's Celebrity Chef and is available as the Moo & Oink spokesperson for events and as an enlightened and entertaining television personality. In addition, he creates original recipes for Moo & Oink products.
He attended Ball State University, Muncie, IN, before transferring to Johnson & Wales University, Charleston, S.C. In 2002, Chef Evans graduated from École Supérieure de Cuisine Française in Paris. He is a member of Les Amis d'Escoffier Society (The Friends of Escoffier Society) and the World Association of Chefs Society (Wacs).
Chef Evans is currently completing the pilot for his cooking show, "Fine Dining with Chef Evans," and he is the author of a new book - "From the Ghetto to Gourmet…I Refuse to Lose."
About Moo & Oink
Best Chicago Meat Co., LLC, purchased Moo & Oink's intellectual property at public auction on Dec. 14, 2011. The four Moo & Oink stores – three in Chicago and one in Hazel Crest - filed for Chapter 7 bankruptcy in late September, 2011. Because there were no bidders on the real estate, the stores will remain closed.
Purchased by Best Chicago Meat were Moo & Oink's name, logo, characters, website, commercial jingle and perhaps most important – its recipes.
Twenty eight popular Moo & Oink products are on grocery shelves at more than 300 stores throughout Illinois, Indiana, Wisconsin and Michigan, including 26 Jewel-Osco locations in and around Chicago.
Best Chicago Meat's commitment to customers goes well beyond delicious products, impeccably clean facilities and the highest standards in food safety. The company is proud to manufacture in a Chicago neighborhood and operates under a strict policy of energy conservation and waste reduction. At Best Chicago Meat, clean and green are fundamental.
In addition, the company is committed to the communities it serves by supporting activities such as youth sports programs, a high school intern program, community events and local and regional festivals. Best Chicago Meat stands strongly behind its customers by supporting local programs that promote family and neighborhood values.
For more information, call 773-523-8161 or visit: http://www.moo-oink.com