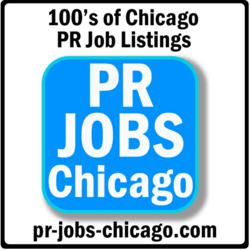 It's a great starting place for public relations job seekers in Chicago to have when seeking opportunities. Job hunters like me now have easy access to hundreds of listings and career search resources all in one place. - Cynthia Hefren, Young PR Pros
(PRWEB) April 28, 2011
EX2, a nationwide provider of public relations job opportunities, has launched a new website to help Chicago PR job seekers find employment. The website – pr-jobs-chicago.com – helps match public relations job seekers to new career opportunities, while also offering ample online resources to aid job hunters in securing a new job in public relations.
The message on the site says it's "a complete resource site for those seeking Chicago PR jobs, with listings of Chicagoland public relations firms and professional associations, as well as, resume and interviewing tips." In addition to providing hundreds of Chicago public relations job listings, the website covers a variety of job-hunting topics, such as advice on job search strategies and tactics, cover letter writing, resume construction and interviewing skills.
Commenting on the new job site, EX2 Partner Matt Williams, said: "Job opportunities within the overall MarCom industry have been greatly affected during these tough economic times and the public relations sub-sector, even more so. This new website helps connect PR practitioners with available public relations job opportunities in the Chicago metro area. We launched the site with the goal of being a one-stop PR job source, providing up-to-date job listings, as well as information and tools to help these job seekers find challenging, rewarding work."
The website also contains links to numerous Chicago PR firms and blog listings of leading PR thought-leaders so job seekers can stay on top of industry trends. Furthermore, the job site also features links to numerous formal and informal MarCom organizations and groups so that job seekers can increase their networking possibilities.
Cynthia Hefren, leader of the Young PR Pros MeetUp Group said: "It's a great starting place for public relations job seekers in Chicago to have when seeking opportunities. Job hunters like me now have easy access to hundreds of listings and career search resources all in one place. With all this material consolidated at one source, it makes your job search much more stress-free and hopefully more successful – I'm grateful for this site."
About Chicago Public Relations Jobs site owner EX2 Publishing:
EX2 is a nationwide provider of websites focusing on public relations job listings. EX2 attempts to provide public relations job seekers with the most up-to-date listings of PR job opportunities, as well as job search resources to aid in a successful job search campaign. The company operates PR job sites in the nation's top-50 DMAs.
For more information, please contact: matt[at]ex2.biz
###