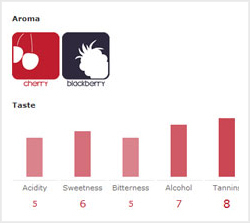 Our goal is to help people have fun and continue to learn about wine and experience new things
Chicago, IL (PRWEB) September 17, 2009
WineMcGee.com today released the beta version of its website, designed to help users find Chicago wine tasting events, BYOB restaurants, wineries, and wine retailers. The website provides a localized experience based on zip code, so each user can focus on what's happening in their neighborhood or near their office.
"Our goal is to help people have fun and continue to learn about wine and experience new things," said Michael Siegler, founder of WineMcGee. "We've created a site that is useful to everyone, not just wine connoisseurs. At the same time, experienced wine drinkers will find powerful tools that they'll love, like our innovative wine review functionality and our question and answer section."
WineMcGee.com is driven by a growing social community of wine drinkers and direct relationships with retailers, restaurants, wineries, and event management companies. Industry partners can market their products and services for free, which keeps the website pouring with new events, wine specials, and up-to-date business information.
"Our website is the ideal place for partners to market their business. Our social networking foundation provides a great mechanism for your news to spread quickly - whether it's an event, a new wine release, or a great BYOB experience," Siegler said. "We're fully integrated with the largest social networks in a way that is really useful to our members. For instance, users can easily share wine reviews with their Facebook friends, or subscribe to weekly tweets sharing the most talked-about wine events in their area."
WineMcGee also includes tools to allow users to record their wine experience, and continue to learn along the way - perfect for people who are typically intimidated to talk about wine. The wine review functionality allows members to review wine at their own comfort level, from a simple thumbs-up/thumbs-down, to a complete tasting including the appearance, aromas, and various taste attributes. Users can ask questions and receive answers from others in the community, which includes everyone from new wine drinkers to experienced Sommeliers.
WineMcGee continues to forge additional partnerships in hopes to create the largest database of local wine information on the web. The company is developing proprietary wine recommendation technology, adding additional personal wine management tools, and focusing on expanding their robust event management software. Visit WineMcGee today to learn about Chicago BYOB restaurants, wine tastings, wineries, and wine retailers.
Contact:
Michael Siegler
WineMcGee.com
630-803-1628
###