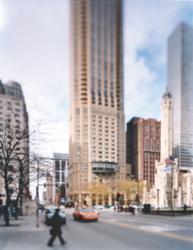 We've created an incredible spa experience that encompasses all the senses and combines the best of results driven techniques and treatments, relaxation and spa experience.
Chicago, IL (PRWEB) June 01, 2011
Park Hyatt Chicago is pleased to announce the June 3 opening of NoMI Spa. NoMI Spa will be a part of Park Hyatt Chicago's new NoMI lifestyle brand featuring NoMI Kitchen, NoMI Lounge and NoMI Garden on the downtown Chicago luxury hotel's Seventh floor.
"NoMI is naturally evolving into our second decade. NoMI Spa, and the entire seventh floor, is our response to the changing needs of our premier clientele. We want to provide them with the highest level of service and to meet their needs for every occasion. To that end, we've created an incredible spa experience that encompasses all the senses and combines the best of results driven techniques and treatments, relaxation and spa experience," said Rick Segal, Managing Director, Park Hyatt Chicago.
NoMI Spa is a distinctive blend of experiences flavored by the seasons and provided by an approachable and gracious staff. Rejuvenating, guest specific aromatherapy accompanies a wide range of offerings to enhance overall well-being. With the highest quality ingredients and botanicals and a menu of unique, exclusive treatments, guests experience the evolution of an innovative spa experience in a harmonious environment.
Throughout the NoMI Spa experience guests savor the seasons through taste and drink and breathe them in through personalized aromatherapy, directing their minds and bodies into the moment and away from the stresses of everyday. Each visit begins with a relaxing organic tea made from the finest organic tea leaves to help unwind. Spa experts then assess client's needs and create a custom aromatherapy blend from the finest herbs and botanicals that is incorporated throughout every stage of the personalized spa treatment creating a total sensory experience. At the end of each treatment, the spice cabinet becomes medicine cabinet with a selection of small bites created by NoMI Kitchen Executive Chef Ryan LaRoche based on the season and healing properties of the spices.
NoMI Spa will be the exclusive Chicago spa location to offer the Hydrafacial, a non-laser skin resurfacing treatment; which is gentler, non-invasive, non-irritating and super moisturizing. This medical grade facial experience has previously been offered in plastic surgery offices and is becoming popular in the spa environment. The spa facial courses will also offer the indulgent and ultra-firming Carita facial, a results driven, anti-aging preventive care for every skin type. Carita's progressive facial features nature's most rare and precious metal and gem - gold and diamonds - and the finest botanical ingredients.
Centered in an intimate space, NoMI Spa is a place to rejuvenate and escape from the city. Amenities include two elegant private spa suites. Each suite features private steam showers, private changing spaces, and is outfitted in luxurious Frette and Andrew Morgan linen. Designed for comfort and tranquility, each suite is cast in gray and natural hues to ease the mind and body. Spa guests are encouraged to spend time to relax and are invited to fully enjoy the updated spa facility, including the state of the art fitness center, steam rooms, locker areas, men's luxurious Hommage shaving station, and the pool with breathtaking views of the city.
The NoMI Spa menu includes house specialties like a Premier Body Treatment and Lake Stone Massage as well as an array of massages, facials, waxing services, manicures, pedicures, hand and foot grooming for men, and more. Incredible customizations are available for all services. Every guest, even those with limited time, can enjoy the personalized experience and rejuvenation of the most effective wellness techniques and technologies in a wonderful and relaxing setting.
NoMI Spa will be open from 8:00 am - 8:00 pm daily. NoMI is located in Park Hyatt Chicago, 800 North Michigan Avenue, Chicago, IL 60611. For more information or reservations, please call 312 239 4200 or visit NoMISpa.com. The spa recommends that guests arrive 30 minutes prior to their treatment start time to prepare for their spa experience. Spa guests will enjoy complimentary use of the health club, lap pool, relaxation lounge, private locker areas and steam rooms. Follow us on Twitter at @NoMIChicago, Like us on Facebook.com/ParkHyattChicago or get an insider's view from our new blog, ComeThinkIn.
Eat well, be well, live well. Life at NoMI.
About Park Hyatt Chicago
Epitomizing modern luxury, Park Hyatt Chicago is a seamless blend of warmth and innovation in a sophisticated urban atmosphere. With a premier presence on North Michigan Avenue, Park Hyatt Chicago boasts spectacular cityscape and Lake Michigan views. A collection of original contemporary art is displayed throughout, expressing the vitality and personality of the city. For more information, or reservations, please call 312 335 1234 or visit http://www.parkchicago.hyatt.com.
###