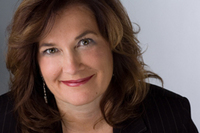 At the end of the day, relationships are what make real estate agents and real estate companies successful, and in our business no one is better at building and maintaining relationships than Jeanine
Chicago, IL (Vocus) April 20, 2010
@properties, the No. 1 Chicago real estate firm, announced that Jeanine McShea has been promoted to president of brokerage services from vice president and managing broker. @properties' co-founders Michael Golden and Thaddeus Wong made the announcement.
McShea, 51, is a 25-year veteran of the Chicago real estate industry. She joined @properties in 2003 when the firm had approximately 80 licensed real estate agents and two offices. In the ensuing seven years, she has overseen the company's expansion to more than 900 licensed agents and seven office locations throughout Chicago and the North Shore.
Under her leadership @properties, which was founded in 2000, has become the No. 1 real estate brokerage firm in the city of Chicago and the third largest real estate brokerage firm in Northern Illinois, based on sales volume (Midwest Real Estate Data, LLC).
In addition to managing day-to-day brokerage activities, McShea is responsible for recruiting, training and education. In 2009 she oversaw the recruitment of more than 200 experienced agents, including more than 75 agents in @properties' newly launched North Shore offices. She also established the firm's Luxury Council, a committee of luxury agents focused on enhancing marketing and client service in Chicagoland's high-end real estate market.
"At the end of the day, relationships are what make real estate agents and real estate companies successful, and in our business no one is better at building and maintaining relationships than Jeanine," said Golden.
"Jeanine not only is incredibly talented and professional, but she is also universally well liked. She is a huge part of the dynamic culture and brand we have created at @properties," added Wong.
"I'm proud of what we've been able to accomplish in the past decade, and I believe we're just getting started," said McShea. "The tools, training and support @properties offers is setting the industry standard, and we are constantly pushing the envelope."
McShea began her real estate career in the mid 1980s and quickly became one of Chicago's top-producing REALTORS®. Prior to joining @properties, she was managing broker at another independent Chicago real estate firm.
McShea is currently on the Chicago Association of REALTORS® (CAR) Professional Standards Committee. Previously she served on CAR's board of directors and chaired its Grievance Committee. She is also a past board member of the Chicago Chapter of the Women's Council of REALTORS®.
About @properties
Established in 2000, @properties is the No. 1 Chicago real estate brokerage firm with more than 900 licensed agents. In addition to Residential Brokerage services, @properties also operates @properties Commercial, a full-service commercial brokerage division; @properties Relocation; @properties Institutional Services Group, specializing in distressed real estate services; @properties Property Management, a commercial and residential property management firm; and @properties Developer Services, Chicago's leading sales and marketing group for developers of new-construction and condominium-conversion projects. The company has seven Chicago-area offices: Bucktown, Lincoln Park, River North, Streeterville/Gold Coast, Lakeview, Evanston and Winnetka. For information about @properties, visit http://www.atproperties.com.
# # #