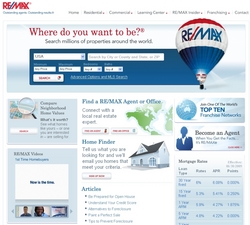 The larger the marketplace that confronts a consumer, the more valuable it is to have tools available that simplify the process of finding the right agent and the right home
Chicago, IL (PRWEB) July 2, 2009
RE/MAX recently introduced an extensive redesign of its popular Web site, http://www.remax.com , geared to meet the challenges of the current real estate market. In its new and improved form, the Web site should be especially welcome in major metropolitan areas, such as the Chicago real estate market.
"The larger the marketplace that confronts a consumer, the more valuable it is to have tools available that simplify the process of finding the right agent and the right home," said Jim Merrion, regional director of the RE/MAX Northern Illinois real estate network. "We've certainly seen that proved true with our regional RE/MAX Web site, http://www.illinoisproperty.com, that serves northern Illinois, including the metro Chicago real estate market, which on its own is the nation's third largest."
The newly redesigned RE/MAX Web site has a virtual punch worthy of the size and strength of this global franchise network - nearly 100,000 agents in more than 70 countries. It serves consumers, investors, the media and more, with a host of new features and enhanced functionality that make buying, selling and managing real estate more intuitive.
In May, remax.com ranked fifth among all real estate sites in terms of consumer traffic, according to Hitwise, a leading online competitive intelligence service that looks at how Web sites are used.
Some of the newest features on the site were built specifically to meet the needs of buyers and sellers in today's market. The home page features extensive search tools for finding a home for sale, a RE/MAX agent or a RE/MAX office, as well as to assess the value of a home. It also includes a detailed list of mortgage rates, dynamic videos and articles offering consumers advice on such things as avoiding foreclosure and understanding credit scores.
Visitors to remax.com can use the comparable home sales tool to assess the value of their home, and prospective buyers can use new mapping features like the Street View and RE/MAX Balloon View to get a detailed look at a home or neighborhood without leaving their computer. Much of the existing information on the RE/MAX Web site has been streamlined so users get to more comprehensive information with fewer clicks of the mouse.
"RE/MAX has always been on the forefront of new technologies that simplify the real estate business for consumers," said Margaret Kelly, CEO of RE/MAX International. "With each new day at RE/MAX, we're finding new ways to help consumers find the very best agents, search property listings around the world and navigate any real estate market."
The site was redesigned by Robert Bynder Design, Inc., based in Westlake Village, Cal., and implemented by eNeighborhoods of Boca Raton, Fla.
"Remax.com is an attractive, yet functional Web site that is rich in content and delivers exactly what consumers need to manage today's real estate market," said Kristi Graning, senior vice president of information technology and eBusiness at RE/MAX International. "The site will continue to grow and evolve as we continue to adapt to consumer demands and the demands of any given real estate market."
In addition to the new consumer site, RE/MAX launched an upgraded version of its Extranet, Mainstreet, which gives RE/MAX agents tools, education and information to manage their business. Mainstreet includes a Design Center application that allows RE/MAX agents to customize pre-formatted marketing materials.
The site also has comprehensive training-on-demand videos offered through the award-winning RE/MAX University. Mainstreet also hosts RE/MAX LeadStreet which has generated more than 6.5 million leads, since it was launched, to RE/MAX agents with no referral fee charged from RE/MAX International.
###