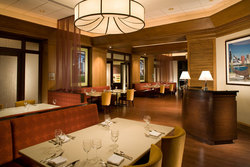 Chicago, IL (PRWEB) April 4, 2010
Officials of the Chicago Marriott at Medical District/UIC have just announced that they have named Andres Bustamante Executive Chef/Food and Beverage Director of the hotel's Rooks Corner restaurant. The recently remodeled restaurant also has unveiled a new menu. With these recent editions, the restaurant has become one of the most popular Chicago restaurants near the United Center.
Chef Bustamante comes to the Chicago Marriott with over 14 years of experience in the culinary field. During that time, he has developed a diverse culinary background, which includes experience with American, Italian and French cuisine. Each dish he prepares has his own personal touch and flair. During his career, he has worked at high volume country clubs, luxury hotels and conference centers in the Chicago area. He most recently served as Executive Chef at the Renaissance Chicago North Shore Hotel.
"Chef Bustamante worked at the Renaissance for two years and helped the restaurant become a favorite for locals and hotel guests," said Dennis Schmoll, hotel general manager. "Due to his experience working at a variety of restaurants throughout Chicago, I am confident he will help our restaurant achieve new culinary heights."
With his appointment, Chef Bustamante has revised the Rooks Corner restaurant menu, which now offers new dishes for diners to enjoy. "Those looking for United Center restaurants with lots of options will likely enjoy this new menu," said Chef Bustamante. "Menu items offered are moderately priced, with appetizers ranging from $6 to $10, salads and sandwiches ranging from $8 to $14 and entrees ranging from $11 to $28. These prices will appeal to people of all budgets."
With the hotel's recent renovation, Rooks Corner has a new look. The restaurant has slick, modern décor and ample seating for small groups. Groups of eight to 40 can dine in a private setting. "The group dining options have made Rooks Corner one of the most popular restaurants near the United Center for Sunday Brunch," said Chef Bustamante. "In fact, family reunions are held at the restaurant over brunch. Guests can have privacy and ample space when dining."
About the Chicago Marriott at Medical District/UIC
The Chicago Marriott at Medical District/UIC is a boutique hotel that is known for its comfort, luxury and style. With onsite dinging options, beautiful decorations and spacious and comfortable guestrooms, people are drawn to this fine hotel in Chicago. The hotel hosts people traveling for business and pleasure, and has ample amenities for both. With meeting rooms and business centers, as well as in room entertainment options and lots of fun activities close by, travelers can find exactly what they are looking for when they stay at the Marriott.
For more information about the Marriott Chicago at Medical District/UIC or Rooks Corner, visit http://www.marriott.com/hotels/travel/chidm-chicago-marriott-at-medical-district-uic/ or call 1-312-491-1234.
# # #