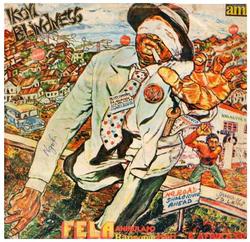 (A) Move to Silent Unrest.
Chicago, IL (PRWEB) October 23, 2007
Ghariokwu Lemi, the critically acclaimed album designer for the late Nigerian afrobeat star and political activist Fela Kuti, travels from Lagos, Nigeria to show his work at Stubbs Gallery and Coffee Shop from October 26-28, located at 3827 N. Lincoln Ave. in Chicago. At Stubbs, Lemi will be showing 40 different pieces on paper. Twenty works are from Fela cover prints and 20 are original works not associated with Kuti.
Lemi, who designed more than 25 album covers of Kuti in 19 years including album covers for "Zombie," "Yellow Fever" and "No Agreement," also painted a work entitled Lagos Sitty that was recently incorporated into the album cover of Chicago Afrobeat Project's new album, "(A) Move to Silent Unrest."
Lemi coordinates his trip to Chicago in conjunction with two CD celebrations for the release of "(A) Move to Silent Unrest" at Martyrs', located at 3855 N. Lincoln Ave. on October 27, 2007 at 6;30 p.m. and 10 p.m. At these events, Lemi will sign limited edition posters featuring CAbP's new album cover.
Lemi's trip to Chicago is made possible by North American Airlines (http://www.flynaa.com) and Stussy (http://www.stussy.com).
Event details for Lemi's Gallery showing at Stubbs
Location: Stubbs Gallery and Coffee Shop
Date: October 26-28
Cost: Free
Address: 3827 N. Lincoln Ave.
Phone: 773-477-9840
Event details for Chicago Afrobeat project CD release celebrations
All-ages early show
Location: Martyrs'
Special Guests: CAbP dancers; "live art" by Chadwick
Date: Saturday, September 27
Cost: $8 advance; $10 day of show
Ages: All
Show Time: 6:30 p.m.
Address: 3855 N. Lincoln Ave.
Phone: 773-404-9494
21+ late show
Location: Martyrs'
Special Guests: CAbP dancers; "live art" by Chadwick
Date: Saturday, September 27
Cost: $12 advance; $15 day of show
Ages: 21+
Show Time: 10 p.m.
Address: 3855 N. Lincoln Ave.
Phone: 773-404-9494
About Lemi:
Lemi is a self-taught graphic/fine artist, cover designer and illustrator from Nigeria who has carved a niche for himself in the field of album cover design and illustration. Four decades in the making as one of the world's most prolific record sleeve designers, Lemi's art is rebellious, comical political and even erotic, but most of all he is a genius in pictorial narration, realism and iconicity. More than 2,000 album covers have been designed by Lemi, including covers for Bob Marley, E.T. Mensah, Osita Osadebe, Gilles Peterson and Antibalas.
In July 2003, Lemi participated in "Black President: The Art and The Legacy of Fela Anikulapo Kuti" in New York City, contributing 13 original works. The president of MTVcommissioned Lemi to paint his first painting on American soil, titled "Everybody's Gotta Be Somebody" which then inspired film maker Aaron Koenigsberg's short documentary of same title.
About Chicago Afrobeat Project:
Afrobeat cannot stand still. As the genre's tempting sounds continue a resurgence across the globe, Chicago Afrobeat Project (CAbP) remains true to its original vision of breathing the intense seductiveness of Chicago's rich music scene into the infectious sounds of afrobeat. Rather than become caricatures of the genre, CAbP slips a reverent nod to the tradition while delivering an energized originality different from any other band on the afrobeat scene today. At each of its 100+ live performances a year, the group's frenzied songs hit audiences with a big enough one-two punch to tirelessly knock them onto the dance floor time and time again. Afrobeat's range of influences -- funk, rock, jazz, afro-cuban, high life and juju music - settle into a hypnotic, dance-compelling pulse at the core of CAbP. The group weaves intensity and originality around this core through rock and experimental jazz. The trance-like grooves that hold the floor in the tradition are pushed to new borders in CAbP's second and self-produced album, "(A) Move to Silent Unrest."
For more info visit http://www.chicagoafrobeatproject.com
About Cabp's Album Artwork:
The first limited edition run of "(A) Move to Silent Unrest" CDs from CAbP Music includes a fold-out poster of painting by Fela Kuti's primary album designer, G. Lemi. Entitled "Lagos Sitty," the painting is the focal point of the cover, as you can see a woman staring at a version of the painting spray-painted on a wall near Fulton Market in Chicago's meat packing district. The painting resembles the fusion of Lagos and Chicago, as does the music on "(A) Move to Silent Unrest."
Contact:
Please contact David Glines at 312-404-4530 for interview arrangements with Lemi.
http://www.myspace.com/ghariokwulemi
http://www.ghariokwulemi.com
# # #