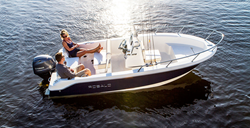 Bringing an exciting and affordable boat like to R 160 to the Chicago Boat Show gives us a chance to reach people who have come to the show seeking a way to get involved in boating at a high quality level – but also at a very affordable level
(PRWEB) January 11, 2016
Pier 33 Marina of St. Joseph Michigan will be debuting the Robalo R 160 Center Console at the 2016 Progressive Insurance Chicago Boat, RV & Strictly Sail Show, which opens Thursday January 14.
Ordinarily, a 16-foot center console doesn't make many sit up and notice something special has happened, but Robalo rolled-out the R 160 with an exceptional social media marketing campaign this past summer and this compact addition to the Robalo fleet has captured plenty of attention for all the right reasons.
With a boat building heritage of over 40 years, the Robalo name has always been synonymous with high quality, superior ride and an abundance of top-notch fishing features. Now joined with Chaparral Boats since 2001, Robalo is also known for delivering personal comfort and outstanding ergonomics across the entire model line-up – and now including the most affordable Robalo afloat, the all-new R 160.
Aggressively priced to reach first-time boaters, boaters seeking economical ways to get on the water without making compromises in quality, style or performance, Robalo launched the R 160, its first center console boat, motor and trailer package with prices starting below $20,000.
"Bringing an exciting and affordable boat like to R 160 to the Chicago Boat Show gives us a chance to reach people who have come to the show seeking a way to get involved in boating at a high quality level – but also at a very affordable level" said Pier 33 General Manager Tighe Curran "plus we've also heard from many experienced boaters who are familiar with Robalo's long standing reputation for quality of build and ride and they know where to find good value. This is it."
The 2016 Progressive Insurance Chicago Boat, RV & Strictly Sail Show opens Thursday January 14 and runs through Monday January 18. Pier 33 has posted essential show information on-line at http://www.pier33.com. The Pier 33 display will feature a selection of models from Robalo including not just the R 160 Center Console, but the first-ever Chicago showing of the R 300 Center Console and best-sellers like the R 200 Center Console, R 207 Dual Console and R 227 Dual Console.
Pier 33 is a dealer for new boats from Robalo and Chaparral. Pier 33 is a full-service marina, with used boat sales, yacht brokerage, 220 docks, complete boat storage and boat repair services and boater conveniences such as Launch on Command and Hook 'n Go options available in-season. Pier 33 serves boaters from a wide region, with boating clients based in Michigan, Indiana, Illinois, Ohio and Wisconsin.