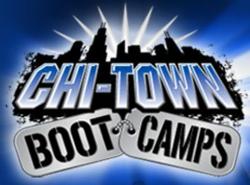 There are two things to aim at in life; first to get what you want, and after that to enjoy it. Only the wisest of mankind has achieved the second. ~ Logan Pearsall Smith
Chicago, IL (PRWEB) November 16, 2011
It's not too early to start thinking about New Year's resolutions. Weight loss has been one of the top 4 priorities for Americans since at least 2002, according to the "2012 New Year's Resolutions Survey" conducted by FC Organizational Products LLC. However, the #1 most common resolution in 2012 is "to become more physically fit." Also in the top 3 this year is "to improve health," which can be accomplished by attending a Chicago Personal Trainer and getting a nutrition / fitness assessment from Chi-Town Boot Camps.
Chi-Town Boot Camps is a successful boot camp franchise in Chicago and the surrounding area. Locations include Arlington Heights, Evanston, Chicago and Schaumburg. Days and times of boot camp sessions vary by location, but most participants meet at least three or four days per week, at anywhere from 5 to 9 am. Owner Craig Kastning would like Chicagoans to know that it's not too late to lose 15-20 pounds by New Year's Eve to look great for work parties or fancy evenings out on the town.
Currently, individuals with Groupon accounts can save big at this boot camp in Chicago. New participants will receive a week of free Chicago Personal Trainer sessions, in addition to a $1 one-on-one fitness assessment, customized nutrition planning and personalized exercise program. Everyone will receive the measurements they need to track their fitness progress and the weight loss tools they need to succeed. Day-by-day meal plans will be drawn up and shopping lists printed out. It can be difficult to manage weight over the holiday season, but this promotion will help Chicagoans get off to a great start.
The term "boot camp" is often misconstrued as a punishing program with hardliners barking out orders. Luckily, this couldn't be further from the truth! A Chicago Personal Trainer is a positive environment where people of all fitness levels can grow and improve their health. The instructors at Chi-Town Boot Camps are as inspiring and encouraging as Tae-Bo's Billy Blanks. They are equipped to train people suffering from physical conditions or illnesses, as well as the average person who is just trying to get into better shape or lose a few pounds.
There are several allures to Chicago Personal Trainer. First and foremost, the results speak volumes. Most people lose a good 10 percent or more of their body weight in just three months. In pounds, this can mean that participants drop 30 or 40 pounds in 12 weeks. People also like that boot camps focus on basic moves that anyone can do. There are squats, lunges and obstacle courses, for example, which instructors can simplify or make more challenging, depending on individual needs. The group atmosphere is encouraging and motivating, especially for people who may have had trouble sticking to a workout schedule in the past.
About The Company: Chi Town Boot Camps is a Chicago boot camp that is committed to helping people reach their ideal health and fitness goals. The company prides itself on having professional and experienced personal trainers who are committed and genuinely concerned with clients and the achievements of their objectives. Each individual is different, so the exercise programs are customized based on individual fitness goals, health history and current health condition. Chi Town's fitness boot camp programs are unique and exclusive and are consistently reviewed to maintain the highest possible standards. All programs come with a 100% money-back guarantee. Please visit http://www.chitownbootcamps.com for more information.
Contact Information:
Chi Town Boot Camps
853 W. Belmont Avenue
Lakeview, Chicago, IL 60657
(630) 560-4500
http://www.chitownbootcamps.com
###