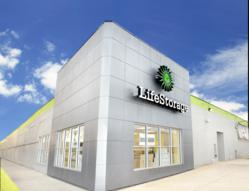 We love to help out the community in any way we can and understand how hard the winter can be in Chicago
Chicago, IL (PRWEB) November 29, 2011
LifeStorage, Chicago self storage provider for home and business, records management and office solutions, is holding a coat drive at its Hermosa location until December 15th, located at 4500 W. Grand Avenue, Chicago, IL. LifeStorage Hermosa is accepting coat donations for Cornerstone Community Outreach, with a goal of filling a wardrobe box with at least 50 coats.
Cornerstone Community Outreach (CCO) is a non-profit organization created in 1989 based in Chicago. Its mission is to raise the quality of life for low-income residents, not just in the city of Chicago, but of the entire country and world, through social, educational, and economic development programs. Though based in Illinois, since 2002, CCO has begun expanding its influence internationally by collaborating with overseas charities with similar missions and goals.
LifeStorage Hermosa Store Manager, Timothy Smith, has experienced firsthand the hardships that can come with being underclothed and underfed during the winter season. Smith noticed the work and achievements that CCO has accomplished and thought it would be a great organization to partner with, from both a personal and business standpoint.
"We here at LifeStorage Hermosa love to help out the community in any way we can and understand how hard the winter can be in Chicago, so we want to be able to help out the less fortunate in regards to a warm coat. I feel the CCO is very important because I personally have experienced the hardships of not having a coat for the winter to sometimes not even having a warm meal to eat growing up. This organization is very dear to me because no one should experience those types of hardships in life." Smith said.
Through the coat drive, Smith hopes CCO gains even more exposure for its many causes. CCO offers a variety of specialized services for the residents of its programs. Just some of the many offerings are case-management assistance, mental health counseling, on-site nurse visits, and an after-school program. For neighbors of the CCO, it provides access to its Free Store, a place to shop for clothing, household essentials, personal hygiene items, and baby products. CCO also offers food bags and holds a Dinner Guest Program every Saturday where it provides a free meal to up to 200 people each week. Smith plans to continue LifeStorage Hermosa's support of CCO in the future too.
"Being a resident close to uptown I witnessed the helping hand of CCO and how they have made a positive impact to the community. CCO is helping change lives for the better during these very hard times and they have ongoing needs in terms of items that are often overlooked. The coat drive is just the beginning of our support and hopefully we'll be able to successfully help CCO for the foreseeable future," Smith said.
For those interested in donating, please call LifeStorage Hermosa at 773-235-8400
###