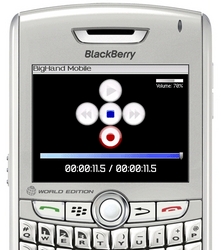 The biggest, and best, aspect of BigHand, in my opinion, is the ability to download dictation from a remote location
Chicago, IL (PRWEB) August 21, 2008
BigHand, the market leading developer of digital dictation workflow systems for the legal community, today announced that Rusin Maciorowski & Friedman, Ltd. has selected and actively deployed its BigHand3 digital dictation application. The 75 user, Chicago-based law firm, replaced a standalone dictation system that severely limited firm-wide productivity and remote access use. BigHand currently has over 650 law firms worldwide using its enterprise dictation workflow software.
Rusin, who has now been using BigHand since the spring, chose the software based on a variety of user-driven factors including the ability to customize the software based on firm and user preferences; mobility options that far exceeded past capabilities; and the ability to keep existing hardware, eliminating the need to make additional technology investments.
"The biggest, and best, aspect of BigHand, in my opinion, is the ability to download dictation from a remote location," Daniel R. Egan, Partner at Rusin Maciorowski & Friedman, Ltd. "When I am away from the office for days in a row, I can download my dictation to the office, allowing my legal secretary to transcribe it for my review, either via an email attachment to me or an electronic file on the desktop. This allows our clients to have updates on their cases far more quickly than when I would return to the office with a tape."
Rusin has achieved a host of benefits since first introducing BigHand to its users:

Administrative productivity has improved by 25%, and now based on BigHand's workflow capabilities secretarial absences have no to little impact on productivity or client service;
Team work and collaboration are greatly enhanced: Firm support staff can now see all work outstanding, and pitch in to help get documents to clients faster. The accessibility of the system has really led to a communal work ethic;
Increased use among firm attorneys: Those who haven't dictated before are now dictating and are more productive, with better quality of output, than before;
Improved client service has improved: Leveraging BigHand, the firm has been able to raise the bar in terms of speed and response times for sending contracts and reports back to clients.
Steve Butterworth, President & CEO, BigHand Inc, commented: "We are very excited about welcoming Rusin to our growing North American legal client base. Similar to other BigHand innovators, Rusin, based on a rapid BigHand digital dictation rollout, has been able to immediately take advantage of streamlined workflows and increased user productivity."
For more information about BigHand Digital Dictation, please visit http://www.bighand.com or email inquiry @ bighand.com
About Rusin
Rusin Maciorowski & Friedman, Ltd. was founded in 1984 by Douglas F. Stevenson, Michael E. Rusin and Stephen J. Friedman (as Stevenson, Rusin & Friedman, Ltd.) with the goal of establishing a specialty firm focusing on representing employers and their insurance carriers in all of the varied legal aspects of the workplace injury, including Workers' Compensation, OSHA, personal injury, contribution liability and lien recovery, wrongful discharge and employment discrimination. For more information visit http://www.rusinlaw.com
About BigHand
BigHand is based out of Chicago, London, Sydney and Toronto. BigHand is the leading digital dictation vendor in the global professional services sector. BigHand3 was awarded "Best of Breed System of the Year" at the Legal Technology Awards for 2008, and nominated as 'New Product of the Year' at the LTN Awards 2008. BigHand was named as the fastest growing legal software developer in The Sunday Times Microsoft Tech Track 100 league tables for both 2006 and 2005. BigHand was also recognized by Deloitte as one of the 500 fastest growing software vendors in Europe in 2006. Additionally BigHand was voted "Best Legal Office Technology System 2004" from votes from over 14,000 lawyers and IT managers across the legal sector at the LOTIE Awards. BigHand's leading product also won the Society for Computers & Law IT Award in 2003 for "the most outstanding application of information technology to the law". Further information is available at http://www.bighand.com
###