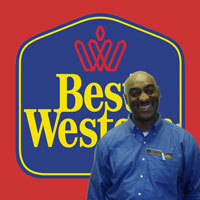 "The page had hundreds of "Likes" within 24 hours of the launch and 2,722 visits within the first week."
Chicago, IL (PRWEB) August 5, 2010
Best Western River North Hotel has combined social media and employee recognition by creating a Facebook campaign for one of their employees. The employee, Wallace Pope, has been nominated to receive a "Stars of the Industry" award from the Illinois Hotel and Lodging Association. Guests of the downtown Chicago hotel have been asked to visit the Facebook page and share their experiences and thoughts as to why Wallace should receive this award. The Facebook page can be found at http://www.facebook.com/wallaceshouldwin.
"Our guests have been interacting with Wallace not only at our hotel but in the virtual world for some time now through his monthly blog titled "Where's Wallace", said Heidi Bitar, General Manager of Best Western River North Hotel, "so we thought this would be the perfect medium for guests to share their stories of Wallace's customer service skills.""The page had hundreds of "Likes" within 24 hours of the launch and 2,722 visits within the first week."
The Illinois Hotel and Lodging Association's "Stars of the Industry" is the only state-wide employee recognition programs for the hospitality industry, honoring the outstanding talent and performance of employees who go that extra mile and provide extraordinary service. Regional winners will be recognized at a luncheon scheduled for October 22, 2010.
ABOUT BEST WESTERN RIVER NORTH
Best Western River North is an award winning hotel located in downtown Chicago. The independently owned hotel features 150 guest rooms and suites, full service restaurant, indoor pool and the unique amenity of free guest parking. For more information visit http://www.rivernorthhotel.com
ABOUT WALLACE POPE
Wallace Pope is a Chicago native and long time employee of Best Western River North Hotel. He is a single dad who loves working with people and sharing his knowledge of Chicago.
# # #