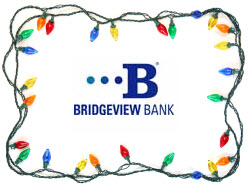 We encourage both employees and customers to share in this joyous holiday season, and to become involved in the many on goings within the communities we work and live
Chicago, IL (PRWEB) November 28, 2012
Bridgeview Bank, a Chicago neighborhood and community banking leader, announces their annual directory of Chicagoland Holiday and Winter Events. This comprehensive calendar offers more than 90 winter and holiday activities and events for kids and adults in dozens of Chicago neighborhoods and suburbs. The comprehensive list includes event names, locations, dates, contact information and links to the event websites.
Bridgeview Bank operates more than 15 full-service banking facilities, including two locations in Bridgeview, the Western and North Shore suburbs - and in the Andersonville, Edgewater, Lincoln Park, Lincoln Square, and Uptown communities in Chicago. Bridgeview Bank offers personal and business banking products, mortgages and wealth management services.
A cornerstone in the Chicago neighborhoods and banking communities it serves, Bridgeview Bank sponsors and supports a large number of local charities and functions each year, while participating in numerous community events, festivals and parades.
"Bridgeview Bank is pleased to offer another valuable resource to our customers, the much anticipated holiday and winter calendar of events. This comprehensive list of activities has something for everyone. We encourage both employees and customers to share in this joyous holiday season, and to become involved in the many on goings within the communities we work and live," says Laura Slagter, SVP and Marketing Director at Bridgeview.
"The 2012 calendar lists fun family holiday and winter events and activities in and around Chicago including traditional events like the annual Christmas Around the World & Holiday Lights at the Museum of Science and Industry and Holiday Magic at Brookfield Zoo. This years' list also includes the Holiday Fest in North Chicago, Geneva Christmas Walk & House Tour and Lisle's Once Upon a Christmas," added Laura Slagter.
Complete details are available in the Bridgeview Cares resources section of the Bridgeview Bank Website or visit any of the local branches for more information.
About Bridgeview Bank
Bridgeview Bank Group in Chicago and the surrounding suburbs provides a comprehensive suite of Personal and Business Banking products, Mortgage options and Wealth Management services designed to be easy to use, safe, convenient, and accessible. Bridgeview Bank provides banking solutions that offer choice and flexibility with minimal fees and restrictions. Customers who bank with Bridgeview receive unparalleled service and first-rate products, tailored to fit their lifestyle.