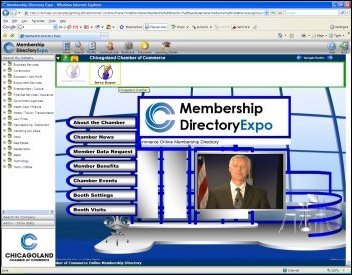 The Chicagoland Chamber's goal is to spark new opportunities for innovation and business growth by providing our members with a resource that will allow for greater sharing and interaction between members as well as with the Chamber
Chicago, IL (PRWEB) July 5, 2007
The Chicagoland Chamber of Commerce is launching its first-ever online community for businesses, Chicagoland Chamber Membership DirectoryExpo, which will include 24/7 interactive access to information about member products and services, Chamber news and events, presentations and educational forums. The Chicagoland Chamber is the first chamber in the nation to offer its members this unique virtual community and online membership directory powered by Chicago-based InXpo's world class virtual event production and technology platform.
"The Chicagoland Chamber's goal is to spark new opportunities for innovation and business growth by providing our members with a resource that will allow for greater sharing and interaction between members as well as with the Chamber," said Jerry Roper, president and CEO of the Chicagoland Chamber. "There is no better place to encourage interaction between diverse groups of businesses and people than the Internet. InXpo's state-of-the-art technology is helping Chicagoland businesses get closer to their customers, suppliers, employees and partners, which is a tremendous advantage in growing one's business."
The Chamber is replacing the traditional printed members' directory with a paperless, environmentally friendly online version which will serve as the basis of the new Chicagoland Chamber online community. You do not need to be a Chamber member to visit the online community, which has the look and feel of a traditional tradeshow exhibit hall.
"The Chicagoland Chamber of Commerce is taking a bold leap forward in the use of technology by creating an online Chamber Community platform to facilitate the promotion of local businesses through business networking and lead generation," explains Malcolm Lotzof, CEO, InXpo. "Chicago-area businesses will now have one place to go to find out about what's happening in the business community from Chicago businesses themselves."
To drive traffic, the Chamber will be hosting several online community events, including webinars, videos, group chat sessions and message boards on topics such as business development, public policy, training and more. Upcoming events include a Chicagoland virtual job fair, a technology security forum and an educational event on reducing employer healthcare costs.
Chicagoland Chamber members are automatically listed in the new online Chamber Membership Directory Expo, along with their member company profile. They will also have the option of buying an interactive booth prominently located in the Directory Expo. These interactive booths will enable members to feature dynamic and engaging content, web pages, flash presentations, product and service brochures describing their business and offerings. As the Chicagoland Chamber hosts special online community events, booth-holders have the ability to staff the booth with their own representatives to communicate with customers and prospects using tools like text, voice and video chat. Members can also boost their presence on the Directory Expo through online advertising.
Chamber members interested in increasing their exposure in the new Chamber Membership DirectoryExpo can contact Jeff Casey at 847-457-4467.
About the Chicagoland Chamber of Commerce
Since its founding in 1904 as the first regional chamber of commerce in the United States, the mission of the Chicagoland Chamber of Commerce has been to make Chicagoland the most business-friendly region in America and enhance its members' success through aggressive programs of advocacy, member benefits and services, and actionable information. The Chamber's over 2,600 members employ more than 1.2 million individuals throughout Chicagoland.
About InXpo
Chicago-based InXpo LLC (http://www.inxpo.com) is the leading provider of privately branded Virtual Trade Shows, Virtual Conferences and Virtual Seminars that can be used for lead generation, loyalty programs, education and general information dissemination. With ongoing use of these virtual events, InXpo clients become well positioned to create their own Virtual Communities.
###