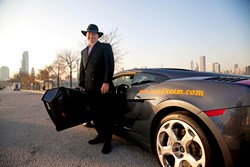 An ounce of prevention is worth more than a ton of cure.
Chicago, IL (PRWEB) February 05, 2013
Contrary to popular opinion, picking out the wedding reception venue is not the first thing to do when planning a wedding reception. The first step is to plan.
"Most people book wedding venues for emotional reasons. And, that can be a recipe for disaster on show day" says Chicago Wedding Producer, Glenn Schroeder.
However, with some preliminary planning, the perfect wedding venue can be chosen. And, the big day can be headache and hassle free.
It just takes a few, well thought out steps. And, Schroeder has laid out his recommendations for choosing the perfect wedding venue below:
1. Write out a list of the most important, most desired elements to have at the wedding reception. And, list the type of vendor that will be providing each item.
2. Ideally, list every guest that will be invited.
3. After listing all the desired vendors, determine all the vendor requirements. And, put all these specifications into one laundry list for later.
4. Prioritize all vendors on the list by "Must Have and Can Afford" and "Would Like If Possible." Compile all "Must Have" requirements into an organized list, in order of importance.
5. Look over the guest list and see if any of the guests have special needs. And, record any special accommodations, if any, that are needed for the guests. For example, people with disabilities may need ramp or elevator access.
6. Having assembled all the vendor and guest requirements, send out RFP's – Requests for Proposals - to the desired, wedding reception locales. Attach all the vendor requirements, as well as any necessities for guests with special needs, to the RFP's. In their reply, kindly ask that the venue respond with whether they can provide for all of these requirements or not.
7. Give the potential wedding venues a deadline for responding, in writing.
If the location can't accommodate what's needed for the couple to have what they want, that location gets scratched off the list. For the qualified venues, the finer points of choosing begin. And, that's the next part of the game.
To get even more in depth information and guidance on how to find the perfect wedding reception location, visit Glenn David Productions at http://www.glenndavidweddings.com. For media inquiries, kindly contact Glenn David Productions at 815-582-3282. For interviews or speaking engagements, email Glenn Schroeder at glenn(at)glenndavidweddings(dot)com. Or, call 1-800-887-3517. To ask a question about choosing the perfect wedding reception venue, visit https://www.facebook.com/fundivisionchicago.