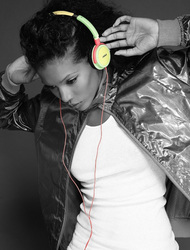 We have introduced a fashionable and elegant side to electronics
San Diego, CA (Vocus) September 4, 2009
Fashion forward electronic company, chicBuds, pronounced "sheek" meaning style and elegance, launches a new line of designer ear electronics with their DJ Sport Headphones. Combining fashion and functionality is a familiar task for the woman-owned company based out of San Diego, California, that has already taken the electronic world by storm with their lines of classic chicBuds earphones with Swarovski Crystals, RockBuds Retractable Inner Earbuds and PinkTooth Wireless Headsets as seen on their newly designed website - http://www.chicbuds.com.
The chicBuds DJ Sport Headphones emulates the ever-present company philosophy that electronics can be stylish while serving its primary purpose of functionality. The headphones are available in Hot Pink or Multi Color, have an adjustable headband for ultimate comfort, fold up for easy carrying, travel and storage and generate incredible insulating sound.
The two women behind chicBuds are pioneers for the fashion shift in the electronic business, creating fully functional electronic products that allow users to express their hip, fashion forward styles while listening to music.
"We have introduced a fashionable and elegant side to electronics," said chicBuds co-founder Nikki Gutshall. "It is not about being girly -- electronics have become accessories and like other accessories they should demonstrate a certain style with its functionality."
Since the launch of their product line in 2006, chicBuds electronics - http://www.chicbuds.com - has seen a wide array of success. Their products have garnered interest from over 60 magazine/press features, received celebrity endorsements and the company has recently partnered with popular retailers such as Nordstrom, Dillards, Fred Meyer, Regis, online BestBuy.com, Radioshack.com for purchase of their products. chicBuds are also distributed in Japan and Australia and can are sold in 10 different countries.
Please contact media (at) chicexecs.com for additional information.
About ChicBlvd Inc:
ChicBlvd Inc, a women-owned multi-media company located in San Diego , CA which began in 2004, includes three divisions -- an online magazine (ChicBlvd.com), product development division (chicBuds.com) and a Public Relations firm (ChicExecs.com) servicing over 80 Clients (sign up for Client updates at http://www.ChicExecsMedia.com).
The division of chicBuds was launched in 2006 with the product chicBuds retractable earphones with Swarovski Crystals—a sweet treat for your ears. All chicBud products are compatible with the iPod, iPhone, MP3 player, CD player, airplane connectors, DVD players… basically any listening device. For more information about chicBuds and their products visit http://www.chicbuds.com
###