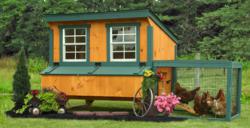 The backyard chicken hutches and runs offer a cozy place for the chickens to spend their time year round
Newark, NJ (PRWEB) January 31, 2013
As springtime rounds the bend, Sheds Unlimited INC of Lancaster, PA announces a 5% chicken coop sale on all models of their hen houses and chicken huts and runs. Both in-stock backyard chicken coops and custom ordered coops with runs are being offered at discounted prices beginning on February 1, 2013.
The Amish-made chicken coops from Sheds Unlimited come in many styles and shapes. Lean-to chicken coops offer a more traditional look for the backyard and are easy for shipping. One can add wheels to make the chicken pens and runs truly portable. The A-frame wood chicken coops begin with the simple Mini Chicken Coop and go on up to a larger coop for 25 - 30 hens. There is also a barn chicken coop and a chicken coop with a run that will make your backyard coop a beautiful part of the property.
"The backyard chicken hutches and runs offer a cozy place for the chickens to spend their time year round," says a manager in the family owned and operated corporation. With a glassboard floor for easy cleaning and a Tech-Shield Sheathing to deflect the hot summer sun, every chicken coop shed from this Amish-Mennonite owned company will keep your chickens happy during the hottest days of the year.
In 2012, Sheds Unlimited built its own online chicken coop store where customers can go to find many styles of wood chicken coops and backyard chicken hutches. There one can find a list of already discounted chicken coops which, during the month of February will be discounted even further. Any of the chicken coop sheds can all be customized for duck coops, rabbit hutches or other small animals. To take the discount, customers simply visit the store and order their custom chicken coop. Then on checkout simply share the Sheds Unlimited website with your friends on Facebook, Twitter or Google+ and a 5% discount will be applied.
Sheds Unlimited INC is a family owned and operated corporation which has been in the business of producing backyard storage sheds and prefab car garages for close to two and a half decades. Their new addition of chicken coops and runs to their line of products aims as serving the entire backyard structure needs of their customers. The chicken coop sale in February 2013 is just one step to allow more folks to enjoy the beauty of a Sheds Unlimited structure while also enjoying the freshly laid eggs from day to day!