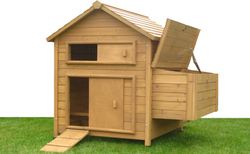 These days chicken keeping isn't just for the smallholding devote with the acres of land and a farmhouse to boot, it's a live stock option open to anyone with a few square meters of garden to offer up to a couple of clucking feathery friends.
(PRWEB) December 23, 2009
With the rise in number of chicken keeping families in the UK it should come as no surprise that the amount of people now searching for chicken coops online has increase as people sniff out the easiest and cheapest way to get started. ChickenCoopsDirect.com has been working hard over the last couple of months to improve not only their website but also their already popular range of chicken coops.
Their top selling wooden hen houses are built with high quality materials that are sturdy and durable. Their 3 top selling coops are now being designed with a handy pull out tray to enable easy cleaning. All have a raised nesting area to keep your pets dry. And best of all, the natural semi hard wood that is used throughout the their range of wooden hen houses is absolutely rot proof and will not be distorted.
And with 2010 fast approaching they have some big plans. Apart from improving on their top selling chicken coops, they will be adding a completely new design to their already popular range of wooden chicken houses.
They have also started to introduce a range of coops made from the recycled plastic waste collected from over 25000 UK farms.
In a recent interview with Mike Davis , Chicken Coop Direct's marketing manager revealed some of their plans for the coming year. "We have had a brilliant year so far, and gotten a lot of great feedback from our customers about our coops , website and overall service. I'm pretty excited about 2010. Early next year we should have a much larger range of recycled plastic coops , which will definitely appeal to a certain section of people who are looking to keep chickens. We also are adding two possibly three new wooden chicken houses to our current range. Plus we also have a few surprises in stall that no doubt will keep our competitors on there toes"
ChickenCoopsDirect.com hope to increase the number of people interested in keeping chickens at home and to offer anyone a easy and affordable way to get started.
About Chicken Coops Direct:
One of the UK's leading on-line retailers for affordable and well made chicken coops and hen houses their online store offers a simple shopping experience that makes it easy for customers to find what they are looking for. For them it's about the attention to detail ,the quality of the chicken coop and the service and experience you have with them. Unlike other suppliers ChickenCoopsDirect.com offer all customers a 110% lowest price guarantee, totally free delivery within England and Wales and should you ever need it an easy returns policy.
###