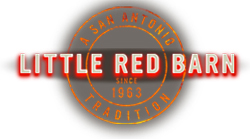 Serving over 1,000 steaks a day!
San Antonio, Texas (PRWEB) May 24, 2013
The Little Red Barn Steakhouse is celebrating its 50-Year Anniversary, Labor Day Weekend, September 2, 2013, of being in business in 2013. In doing so, they would like to thank several longtime employees for their loyalty.
Martha Miller and Ella James both started at The Little Red Barn as water girls. Miller, who joined The Little Red Barn in 1968, is now a floor supervisor. James, who started in 1969, is now the head hostess.
Jesse Martinez and Fidel Flores began as butchers in 1972 and remain in those positions today. Juan (aka Felix) Torres also started in 1972, mopping floors as his first occupation. He is now in charge of preparations.
Ruby Osbourne Huntley joined The Little Red Barn in 1978 as a waitress; today, her popular "Rubies Homemade Brownies" are available on our dessert menu.
Lucy Lopez started in 1983 has done accounts payable and payroll ever since. Sandy Hauser also joined The Little Red Barn in 1983 and has always done accounts receivable and inventory.
Mary Summers Tidd started as a waitress in 1987. She is now a cashier.
Jesse Ramos has been a cook at The Little Red Barn for over 20 years, beginning in 1990.
Little Red Barn would like to honor Johnny Gamboa, who recently passed away in Jan 2013. Always portraying a jovial and positive disposition, Johnny Gamboa worked in the prep department for almost 50 years and was an integral part of the restaurant. They carry fond memories of him having long discussions with their dad about the menu and he always knew how to put a smile on everyone's face. Blanca Gamboa, Sarah Gamboa, and Rosie Gamboa are proud to carry on the legacy here at Little Red Barn.
With a history that spans 50 years in San Antonio, The Little Red Barn Steakhouse is a business with a family legacy. Ralph and Lili Hernandez created their American dream by opening the restaurant in 1963 and their two daughters, Marissa Garcia and Nancy Hernandez, that help keep that dream alive today.
The Little Red Barn Steakhouse has become a San Antonio landmark and a favorite amongst local politicians, businessmen, tourists and of course your everyday people. This restaurant is a place where the employees are treated like family and the customers are served like guests.
About the company:
The Little Red Barn Steakhouse, a family-owned business created by Ralph and Lili Hernandez opened its doors on Labor Day in 1963.Today the restaurant has grown into one of the largest steakhouses in the country, featuring the best t-bone steaks and can seat over 800 people at one time. The western atmosphere, fast service, traditional country music, and excellent steaks at great prices became the formula for success. To find out more, visit http://www.littleredbarnsteakhouse.com.