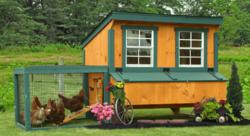 Chicken coops and runs from Sheds Unlimited offer a touch of beauty and simplicity to add color and usefulness to the backyard.
Hartford, CT (PRWEB) May 29, 2012
This week, Sheds Unlimited Inc. of Lancaster, PA announced the addition of a full line of chicken coops and runs, poultry chicken houses, backyard hen coops and portable chicken coops on wheels for sale from their home office in Gap, PA. After more than two decades of providing quality built backyard storage sheds, garden sheds and prefab 1, 2 and 3 car garages to folks throughout PA, NJ, NY, CT, DE, MD, VA, WV and beyond, Sheds Unlimited is now offering Amish built chicken runs and coops for sale across the continental United States.
A Sheds Unlimited associate reported that "chicken coops and runs from Sheds Unlimited offer a touch of beauty and simplicity to add color and usefulness to the backyard." Every backyard chicken house from Sheds Unlimited is a detailed piece of workmanship designed to be pleasing to the eye and a comfortable abode for a small or large number of hens. Visit the Sheds Unlimited chicken coops website online and discover various models to choose from in a variety of sizes.
The Mini Chicken Coop from Sheds Unlimited is the most affordable solution to anyone looking for a small portable chicken coop for a tiny backyard. It offers room for up to four chickens and has two nesting boxes which are easily accessible from the outside. Even children can gather the eggs from this small hen house coop.
What will be most appealing to many customers is the price tag of this small easy clean chicken house. For less than $560.00 (tax not included) this chicken coop can be in the backyard of any homeowner who can pick up their coop at Sheds Unlimited in Gap, PA. During the month of June 2012 Sheds Unlimited is offering a 5% discount on all backyard chicken coops in their chicken coop line. In addition, all customers within 250 miles of the Sheds Unlimited manufacturing facility who purchase a storage shed or prefab car garage from Sheds Unlimited during the month of June will qualify for free shipping on their portable chicken coop. That calculates to over $300.00 in discounts on the new Mini Portable Chicken Coop from Sheds Unlimited and even more savings on larger poultry coop and Amish barn chicken coops.
The chicken coop houses from Sheds Unlimited come standard with some outstanding features. To make every hen house an easy clean chicken coop, Sheds Unlimited offers glass board floor for free. In addition, Sheds Unlimited chicken coops have a special protection plan to keep your chickens cool during hot summer days. Take a look inside of a chicken coop and you will find a special sheathing called LP Tech Shield Roof Sheathing along with ventilation doors and window. This special foil backed roofing material on the inside of chicken coops keeps the hen house cooler during the hot summer days. And all of this comes standard on every backyard poultry coop from Sheds Unlimited.
The Sheds Unlimited chicken coop website pages offer additional options available for any chicken coop. One can add a wheel assembly to the backyard chicken coop to make it a truly portable chicken coop. Some might consider a poultry chicken run to give the hens room outside with some limits. Or if one is not sure how to build a chicken coop, but would still like get his hands dirty, he has the option of a do-it-yourself chicken coop. The DIY chicken coop can be shipped as a package anywhere in the continental United States and easily assembled when it arrives.
Visit the Sheds Unlimited website and find beautiful pictures of chicken coops, options for chicken coop designs and a soon-to-be-available online chicken coop store where one will be able to simply choose their backyard chicken coop style and buy a chicken coop online. Until that becomes available, Sheds Unlimited office personnel are available to answer questions about their new line of chicken coops and runs.
Sheds Unlimited has been a producer of backyard storage sheds, Amish garden buildings, prefab one car garages, two car garages, three car garages and two story sheds and barns for over twenty years. Attention to detail and superior customer service has allowed Sheds Unlimited to grow their customer base along with the lines of sheds, barns and now chicken coops available across the United States. An manager of the Sheds Unlimited corporation said that "We are excited about offering our new line of chicken coops to our existing customer base and to new customers looking for backyard chicken coops."