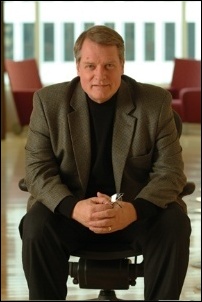 We are delighted to have Jim Chiddix join Symmetricom's Board of Directors
SAN JOSE, Calif. (PRWEB) April 6, 2007
"We are delighted to have Jim Chiddix join Symmetricom's Board of Directors," said Thomas Steipp, president and CEO of Symmetricom. "Jim's impressive career spans much of the history of the cable industry, providing us with great technical and operational knowledge. Symmetricom has already played a major role in defining the cable industry's synchronization standard for M-CMTS DOCSIS 3.0, and is now providing Quality of Experience (QoE) solutions that will be essential to the reliable delivery of video over IP networks. We believe both of these represent exciting growth areas for the company."
Prior to OpenTV, Chiddix served as president of Mystro TV, a division of Time Warner Inc. that developed a pioneering server-based time-shifting service for cable subscribers. For the 15 preceding years, he was SVP, Engineering and CTO at Time Warner Cable, where he was responsible for technology strategy, engineering and R&D for the nation's second largest cable operator. Chiddix has been involved with major new technologies embraced by the cable industry, including local ad insertion, fiber optics, video-on-demand, cable modems and digital set-top boxes. Chiddix recently joined the board of Vyyo, Inc., an innovative manufacturer of enhanced bandwidth cable TV equipment.
"This is an exciting time to be joining Symmetricom's board," said Jim Chiddix. "The digital revolution is driving new opportunities across many markets, and I believe Symmetricom's synchronization technologies and QoE capabilities will make an important contribution to the successful implementation of next generation networks and broadband video services. I see the company as a critical player in enabling broadcast, cable and telecom operators to enhance their multimedia service offerings."
For an exclusive interview with Jim Chiddix, visit: http://www.symmetricom.com/podcast/Jim_Chiddix.mp3.
About Symmetricom, Inc.
As a worldwide leader in precise time and frequency products and services, Symmetricom provides "Perfect Timing" to customers around the world. Since 1985, the company's solutions have helped define the world's time and frequency standards, delivering precision, reliability and efficiency to wireline and wireless networks, instrumentation and testing applications and network time management. Deployed in more than 90 countries, the company's synchronization solutions include primary reference sources, building integrated timing supplies (BITS), GPS timing receivers, time and frequency distribution systems, network time servers and ruggedized oscillators. Symmetricom also incorporates technologies including Universal Timing Interface (UTI), Network Time Protocol (NTP), Precision Time Protocol (IEEE 1588), and others supporting the world's migration to Next Generation Networks (NGN). Symmetricom is based in San Jose, Calif., with offices worldwide. For more information, visit http://www.symmetricom.com.