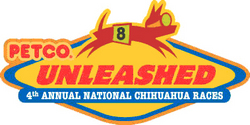 (Vocus) May 1, 2008
WHAT:
It's down to the final five. The PETCO Unleashed Chihuahua races are moving into their final round of regional contests, with hundreds of pint-sized racers expected to compete in five cities this Saturday for a chance to join the pack of America's fastest portable pooches.
New York's fastest Chihuahuas will gather in Valley Stream to sprint – or stroll – down a 1/18th furlong (35-foot-long) race track. The winner will head to San Diego to battle it out against 14 other regional champs in front of cheering crowds at PETCO Park, Aug. 31.
B-roll footage from the Valley Stream race will be made available to news stations.
WHEN:
Saturday, May 3, 2008 – 10 a.m.
WHERE:
Valley Stream PETCO
366 West Sunrise Highway
Valley Stream, NY 11581
516.561.7088
B-ROLL:
Date: May 3, 2008
Time: 17:30-17:45 ET
Galaxy 26
Transponder: 10
C-band; Bandwidth: 36 MHz
Uplink Freq: 6125 V
Downlink Freq: 3900 H
PATHFIRE:
''PETCO Unleashed 2008: Search for America's Fastest Chihuahua''
VNF Provider A Locator Page
WHY:
To celebrate the joy companion animals bring to their pet parents and to bring attention to millions of adoptable pets – including Chihuahuas – waiting for loving homes nationwide.
WHO:
PETCO is a privately held specialty retailer that provides products, services and advice that make it easier for our customers to be great pet parents. We operate more than 900 stores in 49 states and the District of Columbia, as well as a leading pet products and information destination at http://www.PETCO.com . Our nonprofit organization, The PETCO Foundation, has raised more than $41 million since its inception in 1999 to help promote and improve the welfare of companion animals. In conjunction with the foundation, we work with and support more than 5,000 local animal welfare groups across the country to help find homes for more than 200,000 adoptable animals every year.
CONTACT:
Marta Karpinska-Dean, PETCO, 858.444.5575, martak@petco.com
Robert Anderson, LFHP Productions, 919.585.2163, roba@lfhp.net
###