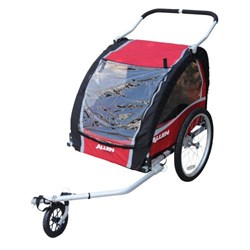 These new carrying bike trailers represent the latest in comfort, safety, and style for the active parent.
Birmingham, MI (PRWEB) December 16, 2013
New child carrier bike trailers are available at BicycleTrailers.com, the leading provider of cargo bike trailers, kid's bike trailers, and pet trailers. This includes new products from well-renowned brands like Britax and Co-Pilot. The site recently added several child carrier trailers to its growing collection of bicycle accessories that make it easy to envelop biking into more aspects of your daily lives.
Rob Smith, BicycleTrailers.com spokesman said, "These new child carrying bike trailers represent the latest in comfort, safety, and style for the active parent. As more people take up biking as a primary method of transport, they'll find utilities like these child carriers more important than ever."
In addition to biking products for parents, BicycleTrailers.com also provides helpful product information and recommendations for other bicycle gear such as pet carriers and bike cargo trailers. BicycleTrailers.com provides real customer reviews for each of the bike trailer that it sells and offers the latest styles from the brands that biking enthusiasts trust the most. Offering both value and helpful resources, the site makes it easy for parents to find the best option for going out on bike rides with their kids, ensuring that no one in the family misses out on the fun in the outdoors.
Bicycletrailers.com specializes in child bike seats, bicycle trailers, bike cargo trailers and bike accessories such as the Trail Gator Bicycle Tow Bar from top selling brands such as BOB, Croozer, Schwinn, InStep, Burley and more. In addition to product reviews and information articles, the company also provides tips and buying guides to assist customers with finding the best cargo trailers and other bike equipment for their needs. For more information, please visit bicycletrailers.com.