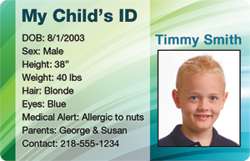 Chanhassen, MN (PRWEB) November 13, 2012
Thousands of organizations across the country have an ID card printer. While these printers are primarily used for creating ID badges for employees, in honor of Child Safety and Protection Month, ID Wholesaler has a suggestion for these companies: print child ID cards for your employees' families.
One of the goals of Child Safety and Protection Month is to raise awareness about the potential dangers children face and how to protect children from these dangers. A child ID card is a great way for parents, care-givers, or other guardians to carry their child's personal information at all times so that if the child went missing, identifying information can instantly be given to police to assist in recovery.
A child's ID card may include a photo, eye color, hair color, height, weight, fingerprint, and more. Photo ID software makes cards easy to create and print quickly. Some card software programs even offer the option of keeping the information in a database if desired, which can be especially helpful for daycare centers or other organizations for children.
For more information about ID Wholesaler or how to create child ID cards, visit http://www.IDWholesaler.com or call an ID Professional at (800) 321-4405.
About ID Wholesaler
ID Wholesaler is the largest online retailer of photo identification products, serving its clients with guaranteed lowest prices, expert advice, and free support on everything they sell. ID Wholesaler stocks a broad selection of ID card printers and systems, ID software, supplies, and badge accessories from the leading manufacturers. For more information, visit http://www.IDWholesaler.com.