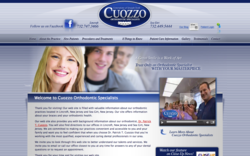 Sea Girt, NJ (PRWEB) February 07, 2012
Dr. Patrick Cuozzo, a board-certified orthodontist and Elite Provider of Invisalign in New Jersey, says seeking treatment for malpositioned teeth early on in life can offer significant health and cosmetic benefits over postponing a procedure. With over one million people in the United States and Canada currently wearing braces every year, according to a recent study by the American Association of Orthodontists (AAO), he says patients who undergo a procedure such as Invisalign® or clear braces while they are still young can achieve a healthier, more structurally appealing mouth. While the AAO study also reports that only 1 in 5 orthodontic patients are adults, Dr. Cuozzo adds that correcting misaligned teeth early can lessen the total treatment time required, promote proper bone growth, and improve overall oral health.
By the time children have developed most of their permanent teeth, Dr. Cuozzo says he recommends parents begin consulting with an orthodontist, as childhood is the optimal time for identifying future dental concerns and guiding teeth in the proper direction for healthy development. He says orthodontic treatment early on can also help reduce the risk of future complications such as impacted teeth, the need for permanent tooth extractions, and other invasive dental treatments. For patients seeking braces in New Jersey, Dr. Cuozzo adds the earlier an orthodontist can identify teeth movement, the more accurate he or she will be at predicting the right course of action for treatment, thus yielding the most effective results.
Regardless of what age patients begin seeking corrective procedures for their teeth, Dr. Cuozzo encourages his patients to consult with an experienced and qualified orthodontist before undergoing any treatment. He adds that because of the difficulty and complexity of orthodontic care, patients should thoroughly research their orthodontist's credentials as well as the most up-to-date procedures available.
About Patrick T. Cuozzo, DDS, PA
Dr. Patrick Cuozzo graduated from the University of Maryland Dental School and earned his Certificate of Specialty at the University of Pennsylvania School of Dental Medicine. Board-certified in orthodontics, he is also a member of the American Dental Association, the American Association of Orthodontists, and the New Jersey Association of Orthodontists. Dr. Cuozzo promotes the education of further dental and orthodontic professionals by serving as an associate professor on the orthodontics faculty at the University of Pennsylvania School of Dental Medicine and as a diplomate of the American Board of Orthodontics. He has published several research articles to major professional journals and works in an advisory capacity with the Jersey Coast Dental Forum, earning multiple citations as one of New Jersey's Top 10 Orthodontic Specialists. Dr. Cuozzo has also received repeated listings in the Guide to America's Top Dentists.
Cuozzo Orthodontic Specialists has two locations at 4 Swimming River Road in Lincroft, NJ, reachable at (732) 747-3466, and 548 Washington Blvd. in Sea Girt, NJ, reachable at (732) 449-5444. He can also be contacted online via the website 4straightteeth.com or facebook.com/pages/Cuozzo-Orthodontic-Specialists/114176307094.
###