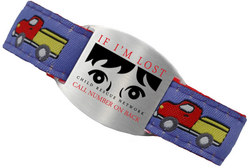 When used in combination with a program of child safety education and proper parental supervision, these bracelets will help to insure the speedy return of a lost child to his or her parents. - Jeff Griesemer, President, Child Rescue Network
Orlando, FL (PRWEB) February 22, 2010
Nearly every parent has experienced the moment of panic that occurs when you're at the mall or a theme park, and you suddenly realize you can't find your child. That's why the Child Rescue Network has partnered with Sticky Jewelry to offer a bracelet that helps to quickly reunite a lost child with his or her parents should they become separated.
The attractive bracelet, which is designed to be worn by a young child at all times, is engraved on the front with the message "If I'm Lost Call Number on Back". The reverse side is engraved with the parent's phone number, usually a cell phone number, so that a person wanting to help a lost child can contact a family member quickly and easily.
"The Sticky Jewelry child safety id bracelet is wonderful in its simplicity," said Jeff Griesemer, Founder and President of Child Rescue Network. "When used in combination with a program of child safety education and proper parental supervision, these bracelets will help to insure the speedy return of a lost child to his or her parents."
Griesemer added that the most common emotion that occurs when a child wanders away from his parents is panic, both on the part of the child and the parents, and that's where proper training can help. "Many parents fear that their child will fall victim to a stranger," said Griesemer, "but most strangers want to help a lost child if given the chance." Child Rescue Network's safety program teaches children to remain in the spot where they first realized they're lost. If a stranger approaches, they're to ask the stranger to sit with them until their parent returns. And, if the child is wearing an engraved safety id bracelet, he or she can ask the stranger to call the cell phone number on the back of their bracelet.
"We're pleased to be a part of the Child Rescue Network's safety program," said Sticky Jewelry Vice President Barry Torman. "It's our sincere hope that these child safety id bracelets will help reconnect lost children with their parents quickly enough so that lasting trauma can be avoided. We're also pleased to be donating 25% of each safety bracelet sale to help support CRN's mission of protecting children."
The Sticky Jewelry child safety id bracelet includes a pre-engraved surgical stainless steel plaque and a nylon/polyester strap with snap/lock clasp. The straps are colorfast and washable, and come in 21 different fun designs that appeal to young children. Each plaque depicts the Child Rescue Network logo, and is custom engraved with a parent's phone number on the back. The cost of the bracelet with one line of custom engraving is under $21. For additional information or interviews, please contact Jeff Griesemer at Child Rescue Network (Orlando) – 877.209.5437 ext. 89, or Barry Torman at Sticky Jewelry (St. Petersburg) – 727.823.9500.
About Child Rescue Network: Child Rescue Network is a 501(c)(3) nonprofit organization whose mission is to raise awareness about the number of children victimized and missing in the United States and around the world, to provide parents with the knowledge and tools to help better protect their children, and to aid in search efforts aimed at locating and reuniting abducted children with their families. For more information, please visit http://www.childrescuenetwork.org.
About Sticky Jewelry: Sticky Jewelry is a personalized jewelry manufacturer and retailer specializing in child safety bracelets and medical id alert jewelry. Sticky Jewelry's full line of lockets, pendants, id bracelets, and engravable gifts can be viewed online at http://www.StickyJ.com.
###